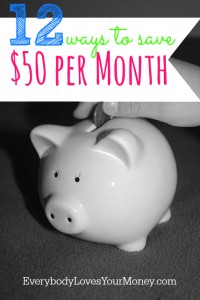 If you could find a way to save a recurring $50 each month in a total of twelve months you'd be able to cut your budget by $600 in one year!
While it might feel overwhelming to find 12 different sources of income to save in one month doing these tasks one month at a time is a pretty reasonable plan.
If you're ready to drastically reduce your budget here are the first six ways to save $50 a month!
# 1 – Switch Your Auto Insurance
As an ex-insurance I can vouch for the fact that you should switch your auto insurance carrier every three years. If you don't your premium is just going to keep rising.
Call an independent agent and have them quote your current insurance policy with several carriers in an apples to apples manner. You might be really surprised how much you can save without lowering any of your coverage's.
# 2 – Ask for Lower Interest Rates on Your Credit Cards
If you have any credit card debt you should immediately call your credit card companies and ask if they'll lower your interest rate.
I did this years ago when I had a credit card balance and had about a fifty percent success rate. The worse they'll tell you is no but you could potentially save hundreds of dollars per year!
# 3 – Only Eat Out Once a Month
My biggest budget buster is always eating out. I do really well for a month or two and then when I get busy I resort to my old ways spending way too much money on takeout.
Challenge yourself to eat out only once a month. This saved me more than $100 a month!
# 4 – Make a Menu Plan & Start Strategically Buying Your Groceries
The best way I've found to save money on groceries and to prevent myself from eating out all the time is making a menu plan and then strategically buying my groceries.
Start your menu plan with what you already have on hand. Then make a grocery list for any of the remaining items you need and stick to the list!
# 5 – Only Buy Secondhand Clothes
Since shopping with ThredUp I don't think I can ever buy brand new clothes again!
Find a thrift store, consignment shop, or online consignment shop you like (I love ThredUp) and start buying your clothing there.
Buying secondhand allows me to get nice, quality clothes for a fraction of what I'd pay for brand new off brand clothes.
# 6 – Turn Your Thermostat Down
This is not going to save everyone $50 a month but I know it can for many.
For instance, like I talked about last week by heating bill used to be $500/month! One of the things I did to lower this was to turn my thermostat way down when I wasn't home.
If you're paying too much in heating costs try turning your thermostat down a couple degrees and then turning it even farther down when you won't be at home.
Six More Ways Next Week
There's the start of the twelve ways to save $50 a month. I hope you found something that can help you! I'll be back next week to share six more ways to save!