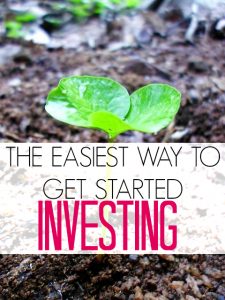 When I look back just a couple years ago it's funny to think of how hard I thought investing was going to be. It completely intimidated me.
So of course, like an idiot, I started with individual stocks and then penny stocks. I lost almost all of my money on the penny stocks and the others aren't doing too great either.
And then when I decided to open up a retirement account I stumbled upon Betterment and investing became super, super easy!
If you're feeling completely intimidated here's the absolute easiest way you can get started investing.
Choose Your Goal
First you need to choose your goal. With Betterment you can open up a Roth IRA, Traditional IRA, general savings and investing account, or save your kid's college.
Once you know what you're going to be investing for you can go ahead and open up your account.
Open Up An Account
Next go to Betterment and sign up for an account. You'll have to provide your personal information and bank information for deposits and choose your goal. (Don't worry you can have multiple goals.)
Take the Risk Tolerance Survey
Next you'll answer a few questions and Betterment will assign you a risk tolerance. If you feel like they've got your risk tolerance wrong you can manually adjust this to whatever you please.
Set Your Goal Amount(s)
When you're setting your goals you can choose how much money you want by the time you reach a certain age. Betterment will then show you how much money you need to invest each month to reach your goal.
You can play around with this calculator to see different results.
Deposit Some Money
You can open up an account with Betterment with any amount of money. (Seriously. I started with $50.) After that you can choose whether or not you'd like to make monthly auto deposits.
That's It. They Do The Rest.
After you set up your deposits Betterment will do the rest. They'll invest your money in low cost ETFs (which are like mutual funds) based on your risk tolerance.
Check in from time to time to see how your investments are doing and to rebalance your portfolio anytime you want.
It's that easy folks!
With tools like Betterment that you let start investing with ANY amount of money and do all of the grunt work for you it's pretty hard to find a reason not to invest.