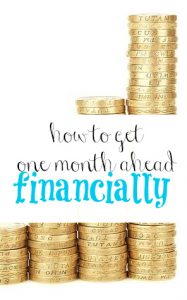 When you're living paycheck to paycheck it's so easy to become engulfed with financial stress. Trust me, I know what you're going through. I've been there before.
But if you're deliberate in your actions, the way you're both earning and spending your money, then it is possible to get one month ahead and eliminate that stress.
Here's what I did and it will work for you, too.
First, Optimize Your Expenses
Your first step, if you haven't already done this, is to optimize your expenses. Cut back in every single place that you can.
If you're living paycheck to paycheck is the cable package really worth it? How about the nice cell phone plan or WAY too big of a car payment? You've got to get rid of all that stuff.
If you're not willing to make the necessary changes you're never going to get ahead!
Second, Earn More Money
There are some of you who are living on a bare bones budget. Cutting expenses back isn't going to do much for you.
That's how I was. My expenses literally could not be reduced any further than what they were unless I stopped eating altogether! In this situation you've got to find extra work. There's no way around it.
As crappy as it sounds, you might need to get a second job. If you don't like that idea then you should work every extra hour of overtime you can or find odd jobs to increase your income.
And remember, this is only temporary. You won't have to work 60 hours or more a week until you die, only until you get caught up!
Third, Save the Difference
Once you have your expenses lowered and are bringing in more money, you need to save the difference. Every last penny of it.
You should be able to accumulate an extra months' worth of living expenses in less than three months. Once you do that you will officially be one month ahead and won't be so anxious about money anymore!
Fourth, Save Some More
If you really want to create financial stability then you need to keep saving. I personally feel comfortable with a minimum of six months' worth of living expenses saved. You might feel different.
Find the number that works for you and don't stop until you reach it. In the end you'll be so happy you reached your goal.
A Couple Things to Remember
It IS possible for you to get ahead. If you live in the U.S. the opportunities in front of you are unlimited. You have to keep the right attitude and understand how important it is to make short term sacrifices.
If you're willing to do the work you can build financial stability for you and your family and eliminate unnecessary financial stress.