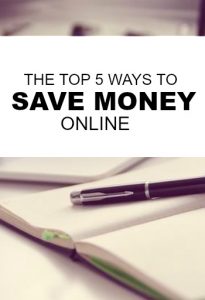 I find myself talking about making money online far more than saving money online, but the truth is today's technology has enable us to do both.
We not only have the ability to earn extra money from the comfort of our home but we also have the ability to score some significant savings with just a few clicks of a mouse.
Here are the top five ways to save money online.
Coupon Blogs
Coupon blogs like Hip2Save or Money Saving Mom are some of my favorites for checking deals.
If there's something I'm on the search for I'll hit up Hip2Save and search the sites to see if I can get a good deal on that particular item or something similar.
And if you're an avid coupon user or are looking to save money on groceries these are great places to browse a few times per week.
Amazon Subscribe and Save
I just started using Amazon's Subscribe and save and I love it! I don't know why it's taken me so long to price compare some of my normal household expenses with Amazon.
Amazon subscribe and save is a free service offered by Amazon that allows you to get auto deliveries with free shipping on qualifying products. You also get an extra five percent off four or less products being auto-delivered and an extra 15% off if you have five or more products auto-delivered.
e-Bates and Shop at Home and Other Cashback Sites
Cashback sites like e-Bates, Shop at Home, and even Swagbucks or InboxDollars are great places to earn some money on the purchases you were already going to make.
These sites get paid affiliate commissions if you shop through their portals and they in turn give a portion of that commission back to you.
Coupons.com
If you've ever visited a coupon blog or tried your hand at coupons then I'm sure you've heard of this site. If not coupons.com is a website that allows you to print manufacturers coupons.
There's normally a limit of two coupon prints per computer.
Groupon and Similar Sites
I think it's great that saving money online doesn't necessarily have to mean shopping online. In addition to printing coupons from a place like Coupons.com you can also take advantage of a service like Groupon where you can find vouchers for local shops.
Saving Money Made Easy
If you have the willpower to not chase a deal just because it's a deal then saving money really is easy. All you need to do is look for deals on the things you really need and avoid the temptation to buy more.
What's your favorite way to save money online?