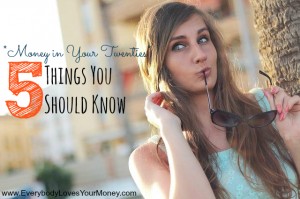 My twenties are quickly coming to a wrap. (Seriously, where did the time go?!) And while I was lucky to fall in love with personal finance at a young age that doesn't mean that I haven't made my fair share of personal finance mistakes.
Here are the five things you should know about money in your twenties.
Kill Your Consumer Debt and Stay Away From It
I'm not a person to say that all debt is bad. But consumer debt? You bet.
If you haven't already, avoid credit cards. If you want to use one to build your credit then make sure you are paying your balance in full each month. It's really easy to say "I'll pay it off next month" and then never do it. Don't kid yourself. It's better to be safe than sorry.
Other types of consumer debt especially things like pay day loans and forms of credit to buy material items need to be avoided like the plague.
My stance on car loans is a little softer. You need to purchase a car that's well within your budget. (Maybe 20% of your annual salary.) But if you're strapped for cash and need a car to get back and forth to work you don't have many options. In this case, a loan that you can pay off within a two years is fine.
Save Money for a Rainy Day
Emergencies happen. For me this tends to be in a yearly broken laptop. Luckily I have an emergency fund to cover this cost when it comes up.
I personally feel comfortable with six months' worth of savings. You may feel comfortable with more or less money depending on your lifestyle and job security.
Put something aside for life's emergencies.
Start Investing (Like, Now.)
My one big financial regret of my twenties is not investing soon enough. I didn't start until earlier this year.
When you start investing for retirement early on in life you have to stash less money away thanks to compound interest. Invest whatever you can starting now. Even $20 a month will add up over time.
Set Up an Easy to Follow Financial System
A financial system is a way to track your budget and stay on top of your financial goals. Yours need to be customized for you.
I personally don't follow a budget to a tee. I know what expenses I have every month and how much as a whole I want to spend and I can do just fine without tracking my every penny. You might be different. If you feel better tracking every purchase go ahead and do it.
Then at the beginning of each month think about your long term goals and make monthly and weekly financial steps that'll take you where you need to be.
Don't Settle for a Career You Hate
And lastly, don't settle for a career you hate.
You're most likely going to be working for 40+ years. How awful would it be to spend a good portion of your life doing something you hate? When it comes to a career don't settle.
You don't have to be passionate about what you do but you should at least mildly enjoy your job. If you can't find a job you like create one for yourself.
What other money in your twenties tips do you have?