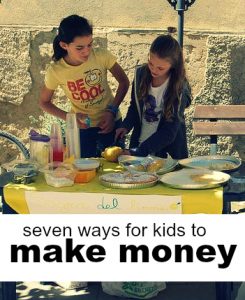 Are you kids wanting to get out of the house and earn some cash this summer?
Giving your kids the chance to come up with their own business idea and execute can teach them a lot about work ethic, money management, discipline and entrepreneurship.
Here are ways for kids to make money this summer.
A Lemonade Stand
Having a lemonade stand is one of the oldest and best ways for kids to earn extra money. Especially younger kids.
When I visit yard sales and see little ones sitting at their booth selling lemonade there's just no way that I can walk past without acknowledging their effort. (And buying some lemonade!)
Mowing Lawns
Doing yardwork is a great way for older kids to earn some decent money.
If your son or daughter enjoys to mow and you feel competent in their skills then why not let them offer their services to the neighborhood?
Washing Cars
Washing cars is something that older kids can do themselves and is a great way to stay cool on a hot summer day.
However, having a car wash in your driveway might not be ideal. The best spots for car washes are generally in business parking lots.
Collect and Sell Firewood
It's officially camping season which means that campers are going to need firewood.
Collecting and selling bundles of firewood is a great idea for kids of almost all ages. After the firewood is collected bundle it up and then put a sign at the end of your driveway.
Look for Recyclables
When I was a kid my brothers loved looking for things they could recycle. This habit stuck with them because they still do!
Letting your kids earn money from recycling at a young age can stick with them forever.
Grow a Garden and Sell Produce
If your child has a green thumb why not let her grow her own garden? This can teach her how to properly care for plants and she can then sell the produce.
Feeding Animals
Feeding animals is a pretty diversified job and is perfect for the animals lovers.
If you have a family friend who owns a farm your child can ask for a job feeding animals daily. Another option would be to feed the pets of neighbors when they go out of town.
Conclusion
There are a ton of ways for kids to make money with summer. If your child is dying to get out there and try to earn her own money why not let her?
When kids take an interest in earning money at a young age they learn entrepreneurship skills, discipline, and money management.