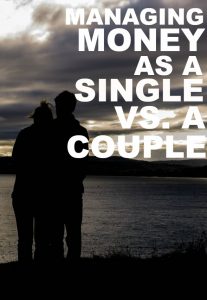 I have a confession. I found managing money to be much easier when I single. Even though I was working with a smaller amount I had full control of over where my money went. Being a saver and a bit of a perfectionist, this worked well in my favor.
Now that I'm managing my money with another person there's a different set of pros and cons.
Managing Money When You're Single
Here are the biggest pros when it comes to managing money as a single person.
You have full control over your money – This is a pro if you're naturally good with your money. When I was on my own I kept a detailed excel spreadsheet listing every place my money would go. I kept my grocery budget for three (me and my two daughters) at around $200/month, and every dollar of extra money went to building an emergency fund. (That's how I was able to build a large emergency fund on a low income.)
I had clear goals and I knew that I was the only one responsible if I didn't meet those goals.
You can guiltlessly work more – Another thing that happened when I was single was that I worked some crazy hours. I worked two day jobs that totaled 50-60 hours per week and then I worked online when my kids were at their Dad's house.
If you want to earn extra money then there are definitely pros to being single.
The Cons
It's not all sunshine and rainbows though. Here are a few cons:
Not having support (mentally and emotionally) from a partner
Having less money to work with
Not having someone else to balance out your shortcomings
Turning into a workaholic
Managing Money as a Couple
Just as there are pros to managing money as a single there are also pros to managing money as a couple, such as:
Having shared goals – This is one of my favorite things about managing money as a couple. It's nice when your financial goals align up with your partners.
You have moral support and that extra bit of motivation you need when times get tough.
Having Extra Income to Work With – If you have a working partner then the extra income can really help you reach your goals faster.
Having someone to balance you out – This may sound weird, but my husband helps me not always be cheap. While he and I share the same goals and both despise debt, he is definitely the spendier one of us two. I find that we balance each other nicely.
The Cons
I think the benefits of managing money as a couple really come down to whether you and your spouse are on the same page. If you're not these are some of the things you have to deal with:
Having completely different financial personalities (i.e. being married to a big spender)
Having completely different financial goals
Compromising
Which is Better?
I don't think one way is better than the other. I honestly found it to be easier to stick to a budget and reach my savings goal when I was single, but at the same time it's also very rewarding to work on goals with a partner.
Both lifestyles offer their own set of pros and cons. However, I do think it's important that if you have a partner that you at least want the same things out of life. If not, managing money together will probably become highly difficult.
Did you find it easier to manage money as a single or a couple?