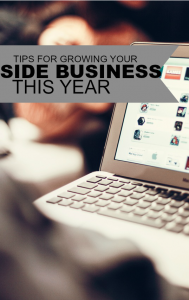 Is your income stagnant? Feel like your side business is stuck and you just don't know what to do about it?
I've actually plateaued a bit myself over the past few months. In an effort to ramp my income back up to where I want it to be I've thought back over what has helped me get unstuck over the past years. The results is this list of ways to grow your side business.
Push Yourself Outside of Your Comfort Zone
Every single time I plateau in my business is when I get stop pushing myself out of my comfort zone. It's not fun to be uncomfortable but if you want different results you have to take different actions.
To get myself out of my little bubble I've joined two new networking groups and scheduled a couple of phone calls with new people this week.
Here are some things you can do to push yourself out of your comfort zone:
Pitch a potential new client every day
Email someone new and introduce yourself
Attend a networking event
Focus Your Energy Where it Matters
When you have any type of side business (or full-fledged business) there are a million and one things that need to be done. If you're looking for growth you need to focus your energy on the few areas that matter.
For me this means working on one thing until I master it and it becomes a habit and then moving on to the next thing. By focusing my energies on one thing at a time I've been able to build multiple income streams.
Take a look at your side business and focus your energies where it matters. (And stop doing the things that don't matter!)
Stay Consistent with Your Efforts
I think most of us run into problems with this last tip. (Or at least I know I often do!) It's hard to build momentum if you don't stay consistent with your efforts.
Schedule in time for the important stuff if you have to. Get up an hour earlier. Stay up an hour earlier. Just make whatever changes you need to stay consistent with your business this year or that growth will probably never come.
Do you have any tips for growing a side business?