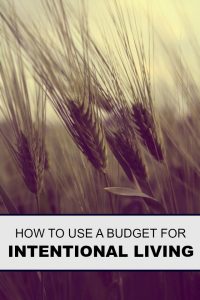 Sometimes it's easy to jump on the bandwagon without even giving second thought as to WHY you're doing something. This is often the case with money.
Whether you're keeping up with Joneses and spending too much money or keeping up with Frugal's and pinching pennies to the point of leading a miserable existence, chances are you're damaging your relationship with money.
If you want to make your money work for you you've got to view it as a tool that will help you live YOUR best life. (Not someone else's.)
Here's how to use a budget for intentional living.
Reduce Stress
In order to have a happy, fulfilling life you need to reduce your stressors. Money can be a huge stressor but is also one that can be fixed.
Here are some things you should do in order to reduce your money stress:
Find a higher paying job (if applicable)
The average household with debt carries over $15,000 in consumer debt alone! Debt is often cited as major source of financial stress and even marital problems.
A second big stressor is paycheck to paycheck living. This can be remedied by going on a budget and saving an emergency fund.
Lastly, if you're living paycheck to paycheck but have a pretty tight grip on your spending, chances are you just aren't earning enough money. (This was my case a few years ago.) In order to improve your situation and have enough money to pay off debt and save you need to earn more money.
Figure Out Where You Want Your Life to Go
If you've already dealt with your debt and have ample savings but are still feeling unfulfilled, start imagining what you want your life to look like in twenty, ten, five, and even one year from now.
Let your mind run wild. What does your ideal life look like?
Once you have an idea of where you want your life to be in different time periods make a plan and start working backwards.
(Just be sure you're also hitting on the basics like retirement planning, for instance.)
Put in Place a Budget That Takes You Where You Want to Go
Once you have your spending plan that will lead you to the life you want start putting it in place. If you like having all the steps laid out for you then put together a zero-based budget that tells you where every dollar you get will go before you even receive it.
If you're like me and preferred a more automatic type of plan set up multiple savings accounts for different goals and have money saved for you. Once those goals are met use the rest of the money for bills and other day-to-day expenses.
I firmly believe there's no one right or wrong way to budget. BUT there is a right and wrong way to budget for your specific personality. Figure out what works the best for you.
Review Your Goals Often
It's no secret that only a tiny fraction of goal setters actually achieve what they set out to do. If you review your goals often and practice mindfulness you can be one of those people.
Write your goals down every morning so you remain aware of what you're working so hard for.