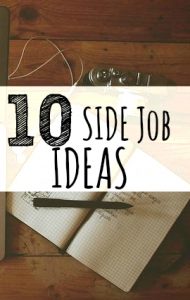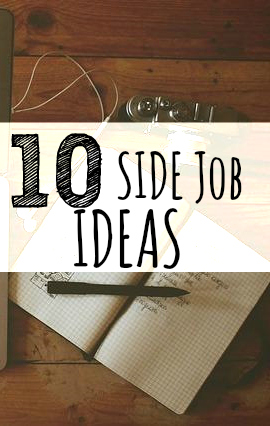 We've already talked about the one thing you need to do to make more money this year. However, I also realize that if you're working a dead end job the chances that you're going to pull in more money from that are slim to none.
If that's the situation you're in this year then you need to look for alternative ways to make money a.ka. the side job.
The Beauty of a Side Job
The thing that makes side jobs so great is that you get to choose what you do. By pairing your interests and skills you can choose a job that you cannot wait to work on. And who knows, with enough time your side job can turn into a full fledged career.
That's what happened to me and it can happen to you too!
If you need some ideas for side jobs I've got ten of them for you.
10 Side Job Ideas
Cleaning Houses – I personally enjoy cleaning. When I'm cleaning my mind is free to wander and think about whatever I want. And turning cleaning houses into a side job can be very lucrative. You can earn up to $50 an hour depending on the type of clientele you choose. (I know someone who makes $350/week cleaning an office building for 5 hours!)
Selling Photography – If photography is your hobby you can sell your photos for a royalty at places like istockphoto.com, 123rf.com, and freedigitalphotos.net, just to name a few. The more photos you upload the more money you stand to make.
Become a Photographer – If you don't want to sell photography you can just start taking family pictures, wedding pictures, school pictures or anything else you're interested in.
Blogger – I'm not going to lie this one will take at least a year before you make money. However, if you have an idea you want to share with the world and can commit to working for free for a while this is a super fun option. Advantages don't cease there; it also opens you to quit your job and become a digital nomad if you are lucky.
Social Media Manager – If you're addicted to social media you've probably got some skills that are in demand. Start contacting local businesses and see if they need help with their social media accounts. Believe it or not this is a very high paying job.
Sell Your Creations – If you're crafty you can sell your creations online at Etsy or at local flea markets and bizarres. You can even sell printables on Etsy.
Become a Consultant – Do you have specific expertise in an area? (This can be anything – finances, Photoshop, photography, etc.) If so you can either coach or consult other people.
Be a Flipper – If you have an eye for a bargain then buy stuff and resell it. You can do this on places like Craigslist, Facebook Yardsales, and Amazon.
Write for Money – If you have a way with words your income options are absolutely unlimited. You can write for local publications, magazines, and even blogs. Just don't get sucked into low paying content mills – you can do so much better
!
Be a Handyman – If you enjoy fixing stuff (and have some people skills) capitalize on that and fix stuff for other people. This is another high paying side job.
Scratching the Surface
Those ten side job ideas are just scratching the surface. The sky really is the limit.
Finally if you are looking at looking for side job ideas consider checking out the saving advice forums. I have an active account over there. Its a good group of folks who are obsessed with making extra money, saving and investing in all kinds of crazy ways.
If you're goal is to make more money this year but you're working a dead end job then start experimenting with side jobs until you find the one that works!