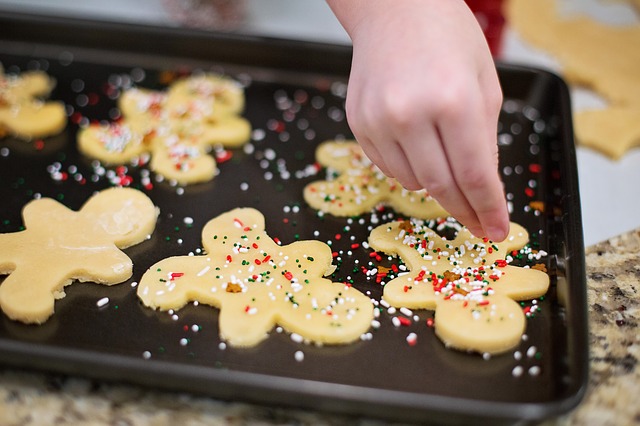 Christmas is the one time of year that many people lose control over their finances. It can happen to the best of us even if we do a pretty good job the rest of the year.
Part of the reason is that there are so many extra things to buy for the holidays. It can also be attributed to not setting aside enough ahead of time so you have the money ready when you need it.
Obviously you want to decorate, have goodies to eat, and buy nice gifts for your kids for Christmas. Here are 5 easy ways parents can save money on Christmas and still have all of that.
1. Start With a List
There are so many things to budget for during the holidays it can be hard to know where to start. For me it helps if I start by making a list (or two).
First, whenever possible, I start my gift list right after the Christmas holiday is over. If I know for sure what to get my kids for the next year I can watch for it to go on sale and pay the lowest price possible.Doing this also helps to spread the cost out over the year instead of trying to absorb it from October to December on a fixed income.
As the holidays draw nearer, I make a list of what I need to purchase for meals or office parties. To stretch my budget and save money on Christmas I check my recipes against what I have on hand. That way when I shop I am not buying duplicates of what I already have.
I add to the list items I must buy to complete my seasonal decorating. To figure out what to buy I look through my craft supplies and take an inventory of what I have first.
Another way parents can save money on Christmas decorations is to have their kids pitch in and help make them. Materials, such as construction paper, glitter, and glue, are much cheaper than store bought ornaments.
2. Put a Cap on Spending
Putting a cap on spending is an additional way parents can save money on Christmas. One way to accomplish that is to limit the number of gifts you give to each person, including your kids.
Setting a limit fosters gratitude. It also makes it easier to save money on Christmas gifts so you don't end up in debt come January. To figure out a starting point for that amount, examine how much you spent the year before.
You may wish to spend about the same amount or cut back if you overspent previously. Whatever you decide, creating a ceiling on spending and sticking to it should help you save money on Christmas this year.
3. Use Resources
Parents can save money on Christmas by using different resources available to them. Smartphones, computers, and other electronic devices can be used to find good deals in many ways.
For example, use your computer or smartphone to find coupon codes you can use online to order gifts. Watch for cash back options you can use to increase your savings.
To lower or avoid shipping charges completely, bundle purchases as much as possible. Ordering through Amazon? Use the No-Rush Shipping option and order early to make sure you get your packages on time.
Sign up for Emails from stores where you plan to shop. They will send notifications of coupons, promotions, and sales which may alert you when an item on your list goes on sale. Remove yourself from the list once you've made your purchase.
4. Avoid Pressure Tactics
If spending money comes too easy, one way you can save money on Christmas is to stay out of the stores. This is especially true on Back Friday. Of course, that isn't always the answer to prevent spending when stores bombard television, phones, and other media sources with constant advertisements.
Stick to your list and don't be pressured by these sales tactics. Time limits or expirations on "good deals" are just a way to get you to part with your hard earned money. Don't be fooled.
5. DIY as Much as Possible
Above I mentioned having your kids help create decorations for the holidays. But anytime you can do stuff yourself it's usually cheaper than paying for it to be done.
Cook the meals, make your own goodies and desserts, and wrap gifts yourself rather than paying for these services. Make homemade gifts if you are talented and have the time.
To help with decorating and gift making, scour the internet and Pinterest for ideas. There are literally thousands of different things you could make or do yourself that are inexpensive and festive.
It's easy to lose track of how much you are spending in the midst of the holiday hustle and bustle. But there are 5 easy ways parents can save money on Christmas and stay on track financially.
What ways do you save money on Christmas?
Jeanne is a married mother of 2 grown children who works as a full-time freelancer and also helps out occasionally on the farm she and her husband own together. Her background is mostly finance and medical office management.  She's currently working to improve her financial well-being and hopes to help others improve theirs as well.