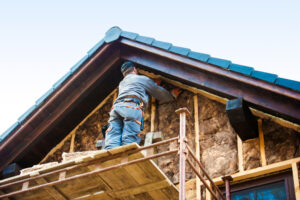 Doing home repairs is an important part of the life of any homeowner who wants to keep their property in good condition. That said, not all home repair projects are equal since some offer better value for your money as time passes than others do. Different projects also cost various amounts, so these factors mean that the projects in question may have an effect on your budget that you hadn't planned for. Review this article to see some of these effects and you'll hopefully have an easier time getting them done.
Plumbing Repairs Will See You Save on Water Bills
If you have any leaks in and around your home, you're paying for water that you're not putting to use. Take time to inspect your home's plumbing, or hire a professional to do so. Doing this can help you to identify any obvious leaks or signs of trouble. Even if you don't see any, keep an eye out for other signs of trouble such as having slow-moving drains, noisy and smelly plumbing outlets, discolored water from your taps and showers, and others.
Keep in mind that 13.7% of water used is actually as a result of leaks, according to Plumbing Manufacturers International. This is not just bad for your bank account, but it's also bad for the environment. The money that you spend on getting a plumber to inspect your systems and fix them will therefore directly result in savings for you.
Newer Windows Make Heating and Cooling More Efficient
If your home has had the same windows for decades, then it's a good idea for you to think about replacing them. While this may be a considerably expensive home renovation project to take on, it's also going to result in an amazing outcome. Newer windows will not only improve your home's value, but they'll also make it look a lot better and can help you conserve the energy you use in your home. This is because you'll insulate your home a bit more reasonably.
Note that the window systems in older homes generally account for 25% of the annual cost of heating and cooling. They could also be responsible for as much as 40%, according to Attachments Energy Rating Council. Clearly, you can benefit immensely from getting new windows for your home if you can. When you do, you'll improve the effectiveness of air conditioning on your budget.
A New Roof Can Help You Maintain Your Home's Value
Finally, the roof over your home plays a bigger role than simply keeping you safe from the harsh weather. It can affect your energy bills as well and keep them within a manageable level if you get a good roof. That said, it's a great idea to have a professional roofer inspect your home's roof and fix it if they find any issues with it. Keep in mind that the average homeowner will spend $985 on roof repair, according to Roofers Guild.
This should prepare you mentally for the amount that you need to spare in your budget to keep your roof in great shape. When you maintain your roof well, you may enjoy amazing service from it for a good part of its lifespan. Since roof replacement is among the most expensive home improvements you can work on, you ought to take advantage of the savings that you stand to make when you service your roof as frequently as it needs to be serviced.
These effects that home repairs have on your budget should make it easier for you to spend time finding out which ones you may need to work on. Remember that it's a good idea to have an expert work on projects that need to be done. This will assure you of a better outcome and save you the likelihood of having to redo something and spend extra money.