Lately, as my job has been really stressful and I'm frankly not all that happy with it, I've been thinking about throwing in the towel and moving out to the lake house once it's done. (My wife would love to do this) In a sense, we'd be checking out of the rat race we are in to find new opportunities and a slower pace. Of course, I can't jus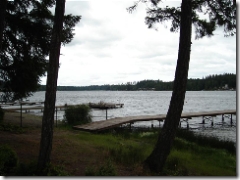 t make a decision like this lightly so I've been running lots of scenarios through my mind:
What would we do for income? Where could we find jobs?
How much interest income could we generate off of our current assets?
What would the schools be like for my daughter and would we be risking her future success?
Would I like living out there full time?
Could we possibly get used to living in 1000 square feet?
Should we consider selling both our houses and buying something a little bigger than 1K square feet out there?
Would we dislike living farther away from family?
What would we do about health insurance?
All these things are serious considerations when making a drastic lifestyle change. Of course the fact that we are considering taking a risk like this must mean we anticipate a positive payback to doing it. Here are some of the reasons we think it might be a good idea:
Slower pace
Less intensity in our day to day lives
Much lower cost of living – less requirement for larger incomes
Spend more time in a place we've come to love
What's interesting is that the risks seem to be more plentiful than the potential benefits. Of course some of the benefits mean more to us than some of the risks above. It could be worth it to live in a smaller space in order to experience a slower pace. Other risks are things that are more important to us though. I don't want to make a foolish decision while my daughter is so young, only to deprive her of better opportunities to learn and go off to college later on. I don't know if that would happen, but it could. Regardless of what we make for income, I'm confident that we could live below our means and still save for our future and my daughter's college. If we aren't making enough to do that out there, we'll adapt and figure out a way to live below our means. It's really very easy to live below our means now, but that's because we've made it a priority. With no house payment out there and no debt, we could easily generate enough income to live on and save for the future.
Needless to say, our minds are spinning fast on this one. Even if we decide not to do it soon, we can still keep this in our toolbox as an option if I ever got laid off, or our circumstances changed.