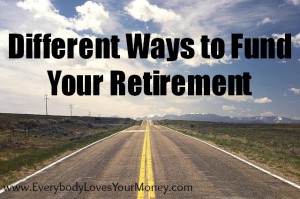 I've always thought differently than the average Joe. And in one regard has been how to fund retirement.
For me, it's really hard to put my money in a retirement account when I could instead be using that money to buy real estate or start another business. Because you see, real estate and businesses have the ability to bring me FAR more money than what I could get out of the stock market.
That's why even though I have a surplus of cash sitting in my checking account right now I opened up my IRA with only $50 plus an automatic transfer of $100/month.
I want my money to work for me. And I think starting businesses and investing in real estate could be a better bet. Here's why.
Investing in Real Estate
Just so you know this whole post was inspired by an article I saw featured on Dinks Finances. Check it out.
In short the article states how owning 22 rental properties is better than having 1million dollars in your 401k.
This is because…….
Rentals are semi passive income
You produce a cash flow
It only takes 10 properties producing $400/month profit to have $4,000 monthly cash flow
When the rentals are paid off (hopefully by retirement) your cash flow will drastically increase
But having rental properties isn't the only way to profit off of real estate. I flipped my first property when I was around 22 years old and was it awesome. I profited $9k in a couple of months and barely did any work.
I'll admit though; I got a hell of a deal and haven't seen anything as nice since. But I keep looking.
If you can find a good foreclosure or short sale, fix it up, and sell it you can make a very nice profit. (Anyone else mildly obsessed with HGTV's Flip or Flop? Or, is that just me?)
Amassing rental properties and flipping properties can help you reach retirement faster than the stock market can. Yes, there are risks but risk can be mitigated by taking proper precautions like getting home inspections and screening tenants.
Starting a Business
Starting a business isn't for everyone. Especially when you're putting a lot of money into a new business – there's a lot of risk involved. This is why I prefer starting online businesses.
With an online business the barriers to entry are low. You can get started for less than $100 and everything you need to know can be found online. Plus you learn as you go.
If you take your time and build 10 online businesses that produce you $500 a month and need minimal upkeep you'll be set with a monthly income of $5,000.
The hardest thing about starting an online business is finding the patience and the dedication you need to be successful. It can take a long time for your business to become profitable.
Conclusion
There a lot of ways use can save for retirement and ultimately you need to do what's right for you. For me, I like the idea of investing in real estate and starting businesses. However, I will continue funding my retirement account as well.
In the end I'd rather be safe than sorry!
How are you preparing for retirement?