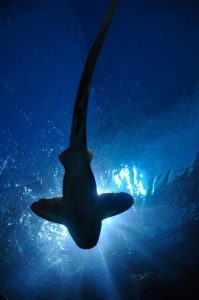 Ever since I've gotten back into watching TV Shark Tank has quickly become my absolute favorite show.
Unlike some other shows regarding money (*cough* Extreme Cheapskates) Shark Tank offers more than just pure entertainment value, there are actually real life lessons to be learned.
The same set of lessons apply to two different topics: investing and starting a business. What more could you ask for?!
Here are the top three things I've taken away from watching countless episodes of Shark Tank.
The Market is Everything
And no, I'm not talking about the stock market but rather the consumer market.
Whether you're investing in a company or starting a business of your own, there's one thing you want to know – who's going to buy the product?
Obviously you don't want to invest in a company that doesn't have an in demand product. And secondly, that company needs to have an edge over the competition.
What makes the product different? What makes the company different? Will it withstand the test of time?
If the answer is "no" then you have a bad business idea and a bad investment option.
No Risk, No Reward
On the contrary you really can't be greatly rewarded without taking a risk.
The Sharks put up tens of thousands of dollars on businesses that are just getting off the ground. That's a bit risky. However, they weigh the risk verses reward before making their investments.
This season the Sharks invested a total of $16.8 Million dollars into businesses. One of the most profitable products this season was an I-Phone based Breathalyzer that grew from $140,000 in sales to $11 million in preorders.
Now that is a good investment!!
Stick with What You Know
You've seen time and time again the Sharks invest in what they know.
For instance, Daymond John founded FUBU and grew it into a multi-million dollar business. He knows fashion and therefore feels more comfortable investing in businesses similar to his.
Keven O'Leary made his millions in technology so he can easily separate the good technological ideas from the bad. Some of the other sharks don't have this ability and therefore steer clear of anything tech related.
Go with what you know and what you like – it will help you find more success.
We're Not Sharks (Yet)
I definitely believe there's a lot to be learned from Shark Tank. But remember, you're not a shark.
Any entrepreneur who goes onto Shark Tank is going to have a huge advantage over other business owners. Going on Shark Tank is free advertising to around seven million viewers.
The mass amount of viewers also gives the Sharks a huge advantage. The likelihood of their investments doing well is already skyrocketed and the dough will continue to roll in their pockets.
Follow some of the key principles the Sharks layout but also keep in mind that you don't have the connections, money, or audience they do. But who knows, maybe one day you will!
Who's your favorite Shark?