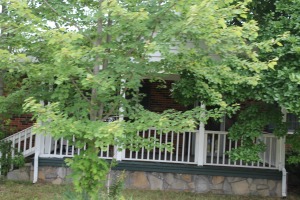 Since discovering the recent foreclosure that I convinced myself I needed to swoop up, I've been doing a lot of research on what makes a good investment property.
With flipping, the calculation is easy. You simply need to sell the house for more than what you have invested in it. But the problem with flipping is that it's not easy.
There's huge risk associated with flipping a property – being the property doesn't sell. In this event you'd either have to walk away without a profit, a possible loss, or rent the property.
And for me I'd definitely go the renting route.
Here's the easy method I've discovered to evaluate a rental property.
The 1% Rule
The one percent rule for rental properties is simple: your gross rents should be at least one percent of the purchase price.
While I've contacted the bank that has the property I'm interested in, I've been thrown from place to place without any answers. So I can only guess at how much this property will go for.
I check real estate listings in my area regularly and my educated guess is that my property will sell for around $50 – $60k.
Using $60,000 as the purchase price and assuming rent of $700 (which I think is extremely reasonable for this property) I'd be in the clear. (One percent of $60k is $600.)
The Cash Flow
The property I'm interested in should definitely meet the one percent rule. But if I had to rent it out what about the cash flow?
Let's take a look.
Purchase Price: $60,000
Down Payment: $12,000
Loan Amount: $48,000
Interest Rate: 5%
Monthly Mortgage: $257.67
Insurance: $100.00
Property Tax: $77.60
Vacancy & Maintenance: $100
Total Monthly Cost: $535.27
Monthly Rent: $700
Monthly Net: $164.73
The monthly net income on this property doesn't get me excited. But I still believe that if this property is fixed up that it would have huge resale value. So again, I want to flip.
I feel like it would bring a pretty significant property.
The Plan
I still want to go for this property and even though I'm trying to save separately for it I have just enough cash to cover the down payment and hopefully the closing costs, should it come on the market soon.
In the meantime I'm going to keep trying to get ahold of the right person at the bank and see if I can't make a deal.
And as promised I snapped a few pictures so that you could see what I'm getting excited about. Unfortunately, the front of the house is pretty hard to see due to overgrown trees and grass.