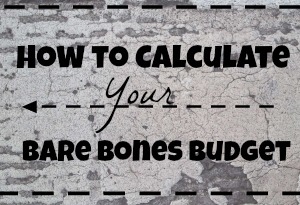 Unless you're into extreme frugality, Mr. Money Mustache style, then you probably aren't living on a bare bones budget and have no desire to.
Still, it's important to know what yours is.
In the event of an illness, job loss, or other life altering event where you lose your income you should know how much money you're going to need to survive.




What is a Bare Bones Budget?
A bare bones budget is simply a budget that you would turn to in the event that you had no income coming in. It will contain the least amount of money you need to get by.
Here are some of the items you'd include in a bare bones budget:
Minimum Monthly Rent/Mortgage Payment
Insurance (Car, Homeowner's, Renters, Health, Life)
Utilities
Food
Minimum Debt Payments
Here are some items that you would NOT include in a bare bones budget:
Cable
Fancy Cell Phone Packages
Clothes
Transportation (unless it's to get to job interviews, take kids to school, go to doctor, etc.)
Toys, Games
Babysitting
When creating your bare bones budget you'll exclude all work related expenses like gas, going out for lunches, and babysitting costs. Because when you're out of work you're not going to be driving around wasting gas. You'll also be able to watch your own children and won't have to pay for daycare.
Just to give you an example this is what my bare bones budget looks like.
Car Insurance $50
Electric $130
Water $20
Internet $70
Phone $40
Food $300
Total $610
Do note though that I have a pretty rare situation. I don't have any debt whatsoever and I'm living in a paid off trailer or staying with my boyfriend free of charge. Therefore I have no rent or mortgage payment and no car payment.
(Also, I feel like I'm forgetting something because $610 seems extremely low.)
Why You Need to Know These Numbers
Have you figured up your bare bones budget yet? Okay, good.
This is the number you can base your emergency fund off of. Remember, an emergency fund is your pool of savings in the event of an emergency such as a job loss.
Most experts recommend saving 3-6 months' worth of expenses but I definitely recommend you go with at least six months.
So if you're bare bones budget is $1,000 should save up at least $6,000 to get you by for six months.
But Could You REALLY Live on That?!
Before basing your emergency fund off of your bare bones budget I have one more question to ask you.
Could you really, honestly stick to your bare bones budget if you needed to? Do you have enough discipline to cut out all entertainment spending?
If your answer is no (and there's no shame in that) then don't base your emergency fund off of a bare bones budget. Add in whatever numbers you need to and work with that.
At the end of the day you're the one who has to make the calls.
Do you know what your bare bones budget is?