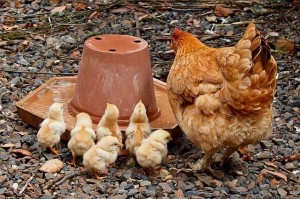 You've tightened your budget. You're spending less money on groceries, have lowered your utility and cell phone bills but you still want to save more.
Now what?
You need some creative ideas to get more out of your money. Luckily, I can help.
Here are five unusual ways you can save more money.
Raise Your Own Chickens
Call me weird but my one of my dreams is to buy a mini farm where I can raise my own chickens. Why, you might ask? Because my kids eat eggs like they're going out of style and you can't compare the taste of farm fresh eggs.
According to this article from MSN money it costs only .90 per dozen for your own farm fresh eggs verses $2.00 a dozen for store bought eggs.
Over time that $1.10 per dozen adds up. (Plus you'll have the comfort of knowing where your food came from.)
Make Your Own Cleaners
You might be surprised to find out that baking soda and vinegar can replace almost every cleaner in your cabinet. And if you're currently buying expensive cleaners you stand to save a ton of money.
For instance baking soda cleans, deodorizes, and softens water. It's great for cleaning sinks and toilets. Vinegar is also a great deodorizer and cleaner but also works wonders on grease and wax – perfect for cleaning up cooking messes.
There are many other natural, cost effective cleaning solutions can you whip up.
Make Your Own Greeting Cards
Do you send out a lot of Christmas cards? How about birthday cards?
Ranging anywhere from $2 – $6 a pop greeting cards are one of those sneaky expenses that creep up on you. Instead of purchasing store bought cards make your own.
Buy some card stock (you can find a 50 pack for around $5.) Then use a free site, like PicMonkey, to create beautiful, personalized cards. These will not only save you money but they'll be far nicer than what you purchase in stores.
Sell or Swap Your Old Items
Do you find yourself purchasing books, CD's, or DVD's far too often? Instead of purchasing just swap them out.
You can join a site like Paperback swap that allows you to swap books with other members. As far as your CD's and movies go find a friend or family member to swap with.
When you're completely finished with these items sell them on eBay, Craigslist, or Facebook Yard Sales.
Become a Procrastinator
Usually procrastination is a bad word, but in this instance it's really not. When you get the urge to spend money on something you don't necessarily need, just wait.
Wait at least twenty fours before making the purchase.
If after twenty four hours you're still unsure then wait longer. Just keep putting off the purchase until you decide that you can't live without it or don't need it.
Conclusion
Saving money doesn't have to be so boring. There are plenty of unique ways to save money that align perfectly with your personality.
Just take inventory of what you spend the most money on and weigh your options.
What unique ways do you save money?