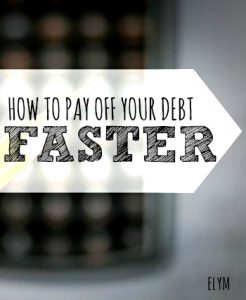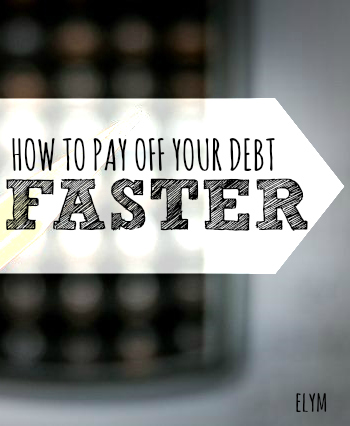 With the year quickly coming to a close many people are now preparing to make a plan of attack for their debt.
If you're in the same boat there is hope. While paying off debt is a long process, depending on how much debt you currently have, there are ways to speed it up.
Here are some things you can try to pay off your debt faster.
Create a Working Budget
Let's start off by going over the fact that the worst thing you can do is to create an unrealistic budget that allows you no breathing room and ensures that you'll crash and burn in the first month.
Don't do that.
You need to create a budget for you. If you know you're going to spend $50 a month on coffee whether you have it in your budget or not then you need to put in in your budget! Don't lie to yourself.
While you should definitely be looking for ways to cut costs you'll completely defeat the purpose of a budget if you start cutting expenses you know you're not actually going to cut.
Make a realistic budget – one that incorporates everything you just can't live without. (If that means you're spending $50 a month on coffee then so be it!) Everyone has their weaknesses, don't think otherwise.
Once you have a realistic budget made out you'll know how much money you have to throw at your existing debt.
Choose a Debt Pay-Off Plan
There are a few different debt pay off plans you can choose from.
The snowball method requires you to list your debts from smallest to largest and pay them off in that order. You pay all of your minimum payments and throw everything else toward the smallest bill. This is a great method for anyone looking for instant motivation and is the method I used when I had credit card debt.
The second method is the debt avalanche. With this method you're paying off your debts from largest to smallest interest rate, therefore saving money over the long run. (You're still making minimum payments on everything else.)
There is no right or wrong way to go. The method you choose will depend upon your personality.
Earn Extra Money
When you have your budget in working order, by realistically cutting down on expenses and have chosen a debt pay-off plan it's time to actually pay that debt down!
If the money you have left to work with isn't cutting it your only other options is to earn extra money. You can go the traditional route by working more hours, asking for a raise, or getting a second job. Or you can go the side hustle route by creating your own job.
Do whichever feels right to you.
There's No Right Way
There's no right or wrong way to pay off debt. The budget you create, amount of debt you have, and debt pay off preferences are all unique to your personality and circumstances. That's why personal finance is well, personal.
The sooner you get started on your debt payoff journey the sooner you'll be debt-free. Don't wait, start acting on your plan now.
Finally, if you need additional perspective for paying off your debt consider getting a copy of Dave Ramsey's The Total Money Makeover
. The book has sold millions of copies and has helped hundreds of thousands of people get out of debt.  It has gotten 4.5 stars (out of 5) on Amazon with over 4,200 customer reviews, so its well worth the read.
What advice do you have for someone looking to pay off debt faster?