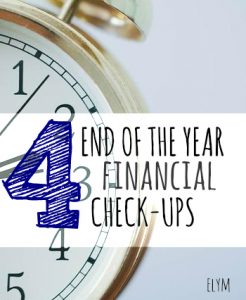 The year is quickly coming to a close. Before you know it we'll be entering 2015 and you'll be setting New Year's resolutions.
To ensure that you make 2015 as successful as possible, you should first make sure that all of your finances from this year are in order.
Here are four end of the year check-ups you should perform.
Debt Assessment
It's extremely important to continually monitor your debt. This is especially true if you're in the midst of your debt repayment journey.
Assessing your debt will allow you to see how far you come this year, what you still need to tackle, and can help you evaluate whether or not there might be a better course of track.
Log into all of your credit accounts, look at past statements, and create a spreadsheet (or use paper and pen!) to log all of your account balances. You need to know exactly what you're working with in order to form a plan to get your debt all paid off. (Read: How to Get Out of Debt Faster!)
For motivation you can update your spreadsheet with your monthly balances so you can see your progress.
Retirement Account Overviews
Now is also a great time to pull out all of your retirement account information and make sure you're on track to with where you want to be.
Use a retirement calculator to determine how much money you'll need and if you need to up your contributions. It's crucial that you assess your retirement situation at least once a year to be sure you'll hit your goal.
Review Your Credit Report and Credit Score Information
Next on the list is reviewing your credit information – which should be done twice per year.
You can check your credit for free through one of these four places. Thoroughly review your credit report making sure there are no errors. If you do find an error then make sure you report it with all three credit bureaus.
Next, look at your credit score. If your credit score is lower than you'd like to be and you have a big purchase coming up, like a home, make a plan to improve your credit.
Perform a Budget Re-Evaluation
Your budget should not be set in stone. Your life, and therefore your expenses, is constantly changing -your budget should follow suit.
Pull up your bank and credit card statements for the last three months and track where you've been spending your money, breaking this information into categories. Once you have this put together go ahead and create a new, realistic budget.
As you're creating your budget be sure to add your financial goals in.
Get Ready for the New Year!
While this might sound like a lot to do, it's really not. If you spend an hour a day on one of these items you can have everything done in 4-5 days.
And those 4-5 hours you spent compiling this information will save you a load of headaches later and set you up to have an awesome year when 2015 rolls around!
Are you doing any year-end financial check-ups?