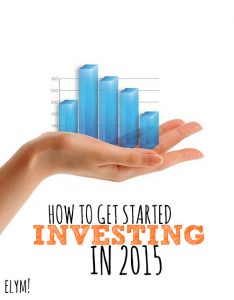 Is one of your New Year's Resolutions to start investing in 2015?
Investing was one of my major goals in 2014. Even though I got off on a little bit of a rough start I learned what not to do. I also learned that investing is pretty easy, as long as you let it be.
So if you're in the market to start investing in 2015 here's how to get started.
Determine Your Investing Goal
Before you get started you first need to know what you're investing for. This will help you determine your overall investing strategy and where to open up an account.
For example, when I first started investing this year I decided I wanted to buy individual stocks. I set up a personal investing account with Capital One 360 and began putting my extra money toward stocks. After a couple months I decided I wanted to invest in dividend stocks and started funneling extra money toward that.
Then later in the year I opened up a Traditional IRA with Betterment and just had my money invested in ETF's that were chosen by Betterment. (And in case you're wondering Betterment does a much better job of investing my money than I did!)
Choose an Online Brokerage
I personally love the online brokerages and virtual financial advisors. If you're starting with a small amount of money setting up an online account is a good solution.
I use Betterment for my Traditional IRA. I had tried other virtual financial advisors and even have my personal investing account with Capital One 360 but as far as a retirement account I love the ease of Betterment.
When you set up an account they will give you a quiz that determines your risk tolerance and select ETFs (exchange trade funds, which are a basket of assets) to invest in for you. They also reinvest all of your dividends.
There are tons of options when it comes to online brokerages and virtual financial advisors. Check around until you find something that you like.
Set Up Automatic Contributions
Once you have your account set up you can have money automatically deposited every month. I highly suggest you do this, especially with a retirement account.
And remember, your investments don't have to be huge! I opened my retirement account with only $50 and have $100 per month deposited. (Which I plan on upping this year!)
You can change your automatic deposit at any time (with most brokerages.) No amount is too small!
Just Get Started!
The most important thing is that you get started. If you're feeling daring and want to choose your own investments, give a try. (Just err on the side of caution. And don't buy penny stocks!) If you want to leave the investments to the pros sign up with a virtual financial advisor.
You can always change the amount you invest or which company you go with down the road. Getting started is the most important thing you can do! You can also try a "fee free" investment.