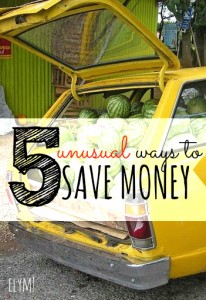 I'm going to be honest. When I get busy with work and my personal life by budget starts lagging behind and I have to play catch up.
With Christmas, plus my oldest daughter's birthday, it's already been a high spending month. To bring my budget back down I've been looking at some unusual ways to save money.
I scoured the internet, looking for some weird ideas. Here are a list of five unusual ways to save money, although I'm not sure I can do #2!
Live in a Tiny House
I have a 900 sq ft trailer. It's small but not tiny but it's also completely paid off so it's not like I need to downsize!
But if housing is one of your biggest expenses then living in a smaller house could dramatically reduce your costs. You'd not only pay less in mortgage/rent but you'd also have to downsize your belongings and shop with intention.
Want to read more about tiny houses? Here's how one couple lives in a 175 square foot sailboat house!
Stop Buying Paper Towels
Paper towels can be a huge money suck. You use them once and then throw them in the trash! It's literally like throwing your money away.
Instead of using paper towels use regular hand towels. If you don't want to spend any money stocking up on those, then cut up old t-shirts and use those instead.
If you want to take it really far you can do the same for toilet paper. I remember seeing this on an episode of Extreme Cheapskates. While I personally couldn't go that far to save a few bucks, I'm not judging!
Stop Washing Your Hair
How much money do you spend a year on shampoo? Well, if you stopped washing your hair or cut back to once or twice a week you could probably save a couple hundred dollars.
I have to be upfront, this is something that I could never do. My hair type would not cooperate at all! However, quitting shampoo is not only cost efficient but it's also supposed to help you have more beautiful hair!
If you're interested in learning more here's the story of one woman who completely quit washing her hair!
Displace Water in Your Toilet
If you don't have a low flush toilet you can save water and money by displacing the water in your toilet tank with a brick or full water bottle.
Here's what you need to do.
Ask for Household Supplies as Gifts!
Do you have friends and family that still buy you gifts?
Even though I've repeatedly asked my parents to stop buying me gifts for Christmas they still insist. So instead of asking for something extravagant I go the practical route.
My Dad gets me a Safeway gift card
every year and my Mom makes a gift basket full of shampoo
, laundry detergent
, and other miscellaneous items.
There are tons of unusual ways to save money and there's absolutely no one size fits all approach.
I'm curious, what's the weirdest way you've saved money?!