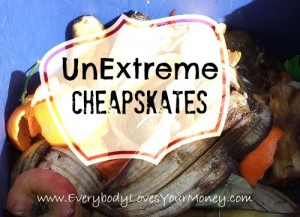 If you frequent personal finance blogs you've likely seen a lot of unusual or extreme things people do to save money. If you've ever caught an episode of TLC's Extreme Cheapskates then you've probably come close to a heart attack witnessing some of these extreme – and sometimes dangerous – methods of saving money.
I was glued to the TV last week when I saw an Extreme Cheapskates marathon on. My jaw dropped at least once every single episode.
While I live on a pretty darn low budget and have done some of the things portrayed on the show there are other things I couldn't dream of doing.
Here are three things I will and won't do to save money – unextreme style!
Three Things I'll Do to Save Money
Use Secondhand Furniture/Clothes – I have a DIY hobby so finding a dumpy looking wooden piece of furniture on the side of the road gets my heart pounding. I have a stockpile of stain, paint, and sanding paper always on hand. And as far as clothes go, I'll hit the consignment shops. I feel like my money can go so much further by purchasing quality secondhand clothing rather than purchasing mediocre clothing brand new.
Buy Almost Expired Food – I am a fan of K-Mart for the sole fact that hardly anyone in my town shops there. A couple weeks before food hits the expiration date they'll mark it 50 – 75 percent off. If there's anything that I think will be eaten fast I buy it.
Run the Air Conditioning as Little as Possible – Last winter I was hit with electric bills hovering at around $500. In an effort to get the bills down I swore to use my heating and air as little as possible. And that's what I've done. It's not always comfortable but it keeps my bills closer to what I can afford.
Three Things I Won't Do to Save Money
Eat Food Out of a Dumpster – To me this was one of the most shocking "money saving tactics" displayed on Extreme Cheapskates. I can't imagine eating food that came out of someone else's trash.
Not Flush the Toilet – Do I need to explain this any further?
Reuse Paper Products – I'm not going to lie: I like paper towels. I also like disinfectant wipes. With two small kids I can't imagine going without or trying to reuse either of these.
Are there any extreme things you'll do to save money?