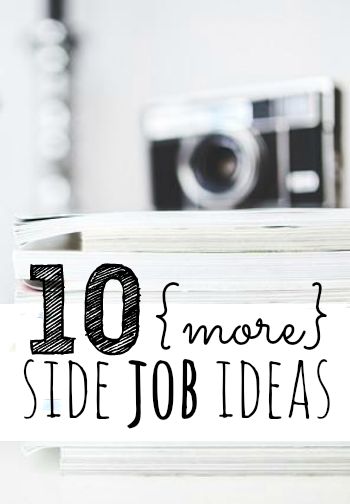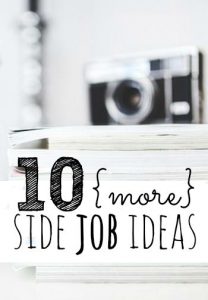 Having a side job, or "side hustle" is awesome. It allows you to test your skills in areas that you wouldn't normally get to in your day job. Plus, you get to make the rules.
Your success is fully dependent on the work you put in. Depending on the type of person you are this could be a good thing or a bad thing.
Almost two years ago I was able to turn my online side jobs into full times jobs! Since then I've nearly tripled the amount of income I earn each month and work less hours to boot! What started out as a side job for me has been an answer to my prayers.
If you want to start hustling but don't know where to begin here are ten (more) side job ideas. (You can read the first ten here.)
Side Job Ideas
Sell with Amazon FBA – Amazon FBA, or fulfillment by Amazon, is a program in which you can send everything you want to sell on Amazon directly to Amazon's warehouse and they'll pick, pack, and ship your items to customers when they sell. One major benefit of FBA is that as a seller your merchandise is available for free shipping to Prime Members. Check out The Selling Family for lots of Amazon FBA info.
Run an In Home Daycare – If you're a mother wanting to quit your day job to stay home with your kids, have you considered offering daycare services? As a daycare owner you can decide how many kids you want to watch and what hours you'll be in operation.
Become a Kindle Author – I've recently been inspired by Steve Scott who earns more than $40k per month selling Kindle books online. According to him, you need to have many related books in your catalog to earn good money. So while one book might not make you rich, having 20 self-published Kindle books could bring in a good income for you.
Join a Network Marketing Co. – I see more and more people join network marketing companies than ever before. It's almost as if the taboo has been lifted from this once shady business practice. The key to making network marketing work out is all about the product. You have to find a product that you can 100% stand by to be a good network marketer or direct salesman.
Try Freebie Trading – You know how a lot of companies will give you a product or even cash if you sign up for a thirty day free trial of their product? Well, the people who do this and earn good money at are called freebie traders. In order for this to work for you you'll need to be highly organized so that you cancel your free trials before being charged.
Walk Dogs – I, for one, am a total dog lover. However, since I live in a very rural area dog walking wasn't cut out to be a good side business for me. If you live in a more populated area with plenty of dog owners nearby offering a dog walking service could be a great fit.
Become a Resume Writer – A woman I was recently guiding on getting freelance writing jobs decided to spread the word to her friends and offer resume writing services. Her friends jumped on board and she quickly got two jobs for good amounts of money. If done right, resume writing is one field that can really increase your earning power.
Offer Painting Services – If you're a good painter and enjoy doing it, offering painting services can bring you good money. In fact, before I moved out of my old house I paid a painter nearly $1,500 to paint my basement plus a few ceilings.
Furniture Making – I love handcrafted furniture. When it comes to spending home décor is my weakness. I'm willing to bet that I'm not the only one! As a furniture maker there's no limit to what you can create or charge.
Selling Produce – If you have a green thumb you can sell your extra produce. While this might only be a seasonal job for some it can still be fun and bring in a nice side income.
Do you have a side job?