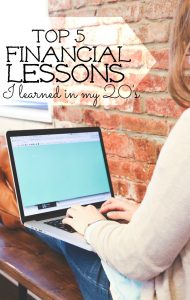 One week from today I'll turn 29!
I thought it would be nice to celebrate my last year as a twenty something by reviewing the most powerful financial lessons I've learned in the last decade.
# 1 – You Can Do Anything You Put Your Mind To
This lesson can be applied to life in general but for me it had a huge impact on my career.
I've went from earning $20,000 per year to almost $70,000 this year. My favorite part is that I don't have a college degree!
I've always been ambitious and when I figured out that I had a much better shot at "making it" on the internet than I did in my small town, I went for it. I persevered even when I was told no a hundred times.
Seriously, you can do anything you put your mind to no matter what people tell you. If you want something bad enough you'll make it happen.
# 2 – Strong Goals are Needed for Financial Success
Without strong financial goals there's simply no reason to work hard. I've been consistently setting strong goal the past several years.
These goals have guided me and helped to keep pushing forward even when I wanted to give up.
# 3 – Investing is Easy
I used to be extremely intimidated by investing. It scared me and I just didn't understand it.
I jumped into investing making several mistakes. I learned from my mistakes and discovered that my problem was that I was overcomplicating things. Now I let Betterment do most of the work for me while investing in a few dividend stocks.
# 4 – There's Always Something to Learn
The older I get the more my money mindset changes. There's always something new to be learned. Luckily, I consider learning about personal finance fun.
Yes, I am THAT dorky.
# 5 – Money Buys Freedom
When you have the right financial plan in place money can buy you a whole lot of freedom. I'm now in a spot where I don't have to worry about money and that feels amazing.
While I'm not technically financially free yet I am in a place where my husband and I could both lose our jobs and be fine for a year. Plus, referring back to point #1 I feel pretty darn confident in my money-earning abilities.
What are some of your biggest money lessons from your twenties?