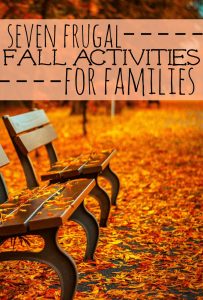 Fall is almost here! I don't know about you but this is my favorite time of the year.
I love the weather. I love being able to wear a sweater and feel just right. I love the leaves falling from the trees. But most of all, I love the activities that I can do with my kids.
Here's a list of seven low cost fall activities for kids of all ages.
# 1 – Pumpkin Picking
Pumpkins are cheap but can provide hours of entertainment. And it all starts in the pumpkin patch.
Picking pumpkins is an activity that my kids and I enjoy every year.
# 2 – Pumpkin Carving/Drawing
Once you pick your pumpkins bring them home and carve them. Since I don't let my daughters (ages 5 and 6) carve they're happy to draw faces on their pumpkins with permanent markers.
# 3 – Hay Rides
Some of my most fun fall memories as a child were hay rides. I was lucky that the people who lived directly behind my Dad offered hayrides. My brothers and I just had to walk through the woods to join in on the fun.
Last year the girls and I went on a haunted hayride (appropriate for kids) and it was fantastic. I cannot wait to take them again.
# 4 – Leaf Piles
Did you jump in leaf piles as a kid? My parents always let my brothers and I make gigantic leaf piles in the yard to jump in. In fact, we did it all the time.
My husband, however, has quite a different stance on it. He wasn't allowed to do this as a child because his step dad thought it would "mess up the yard." Now I've had to sweet talk him into letting my girls make their own leaf piles!
# 5 – Taking Walks
Another beautiful thing to do in the fall is to take a walk through the woods. We recently bought a 19 acre wooded property so I imagine we will spend a ton of time on this activity when the leaves start changing colors.
# 6 – Take Pictures
I don't know about your kids but mine love to take pictures. I can hand them a camera and send them outside to take pictures and they would be occupied for hours.
# 7 – Make Fall Shaped Cookies
Every major holiday my girls and I have a HUGE cookie baking fest. I buy a ton of different cookies and then we spend an entire day baking and decorating. When we're all done we make boxes for both of my brothers and my Dad and deliver them.
They are always extremely proud to present their Grandpa and Uncles their creations.
What are some activities you and your kids enjoy during the fall?