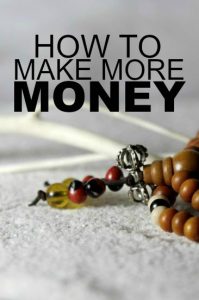 You come across an extra $5,000. You're not interested in spending it or investing it for the long term. You already have an emergency fund and you just want to know – how can I use this to make more money?
That was a question a family member asked me recently.
He had received a small inheritance and wanted to know what I would do to turn that money into more money. The problem though is that what I would do, isn't what he should do.
Whether or not you have received an inheritance is irrelevant. If you want to make more money outside of your regular 9-5 here's what to do.
Combine Knowledge with Profitability
The quickest way to make more money comes from your own experience.
When my family member asked me what I would do to earn more money my answer was something along the lines of buying a website, redesigning my own website, getting some graphics done for a digital product, etc.
Spending the money in online endeavors would be a way for me to make more money. It's an area in which I'm knowledgeable in, understand the risks, and enjoy doing.
But I would NEVER recommend that he do the same.
My advice for him was to flip something. He's a very good carpenter and mechanic. He could find a super cheap car, fix it, and sell it. He could buy building material, build TV stands and sell them. The building options are pretty much limitless.
Sure it would take a little sweat equity but he enjoys building and is really good at it. He could stand to make a lot of money this way.
He needed to start his own side business in something that he was good at and enjoyed doing. Not something that I was good at and enjoyed doing.
What Are You Good At?
If you need to make money or are looking to invest money but are wanting an immediate return, you need to ask yourself – what are you good at?
The fastest way to building your income will come down to that question. What can you do that people will pay for.
We don't all have the same skills so unfortunately I can't tell you the exact path to earning more money. If you're completely stumped then ask as friend. An outside perspective of your skills should hopefully shed some light.
Have you been able to earn money on the side by doing something you're good at?