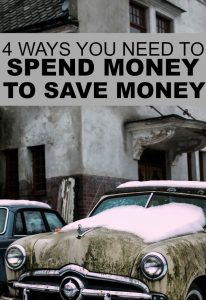 Spending money to save money can sound rather ironic. But the truth is, if you really want to save money for the long term there are some things that require an initial investment.
My family has recently learned this as we've moved toward more of a self-sufficiency type of lifestyle.
If you want to save money in your home here are just a few ways you're going need to spend money to save money down the road.
Heating
For us heating has been one of the biggest "spend money to save money" items. We moved into a big log cabin in the middle of the woods earlier this summer. The house currently has baseboard heaters which are inefficient and costly.
To keep our heating bill low we've put a wood burning insert into the fireplace. We've also supplemented with a couple of Eden Pure heaters for rooms that don't get warm enough.
You don't have to use wood burning heat to save money. If your heat bills are horrendous you can also upgrade to some sort of energy efficient heat option.
Insulation
A few years ago I moved into a trailer after getting divorced. The insulation was pretty much non-existent. (I wasn't aware of this at the time.) My heating bills for a 900 sq ft. trailer were around $500 per month!!
A few hundred dollars' worth of insulation could've saved me thousands of dollars in probably just one winter.
Good insulation is one are you don't want to skimp on.
Light Bulbs
A super easy way to save money by spending money is to simply upgrade your lightbulbs to the CFL version. The average household can save around $40 per month by making this one simple change.
Energy Efficient Appliances
If you run a really old refrigerator somewhere in your home. (Like I used to do in the garage.) It's probably eating up so much electricity that you could pay for a new energy efficient appliance and break even within a year.
If you're using old appliances do some research on how much energy they use and if upgrading to a newer version would be worth the investment.
Hire a local expert like appliance repair dallas texas to get your appliances upgraded.
Windows
Windows are expensive. This is one investment that's probably only worth it if you plan to live in your house for at least a decade and if your current windows are very old and leaky.
And remember, if you have drafty windows you can always cover them with plastic during the cold winter months to help keep the warm air inside and the cold air outside.
One Thing at a Time
In a perfect world we'd all have enough money to replace everything that was costing us too much. But since in these cases it takes money to save money the best thing you can do is go one thing at a time.
Figure out where you'll get the most bang for your buck and start there.
It's a good thing to look for all these features before buying a new home and if you're looking to invest in a new property then you should check out these condos for sale San Diego.