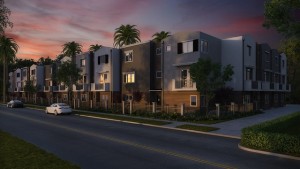 Nothing in life is quite as scary as those first few months with a new roommate. Although your brand new housemate may have seemed responsible, charming and solvent during the interview process, that doesn't mean they won't turn into the roommate from hell pretty quickly. Coming home drunk in the small hours, leaving communal areas like a pig sty and inviting seedy looking friends over are high on the list of roommate complaints, but being late on the bills has to be the cardinal sin. To avoid a whole lot of stress, debt and a ruined credit report, it is important to sit down and work out all the financial details with your new roommate as soon you hand over the new key.
The Rent Issue
Most tenants choose to split the rent 50/50 with each person being solely responsible for their half. However, there are some situations where this won't work. If one tenant has a huge master bedroom complete with balcony and en-suite bathroom and the other tenant lives in a shoebox, then it is only right that the first tenant pay more rent. A couple sharing with a single person can also be a problem as you will need to decide if the rent is split three ways or each party pays half. A good way to split the cost of rent is by calculating how much is paid per square foot of the apartment and each person then pays for how much space they occupy. There is even an online rent calculator that helps you work out your rent according to square footage. Always sit down to discuss the rent with your roommate at the start of your tenancy and get your decision in writing to avoid any problems later on.
Splitting The Cost Of Amenities
If your new roommate likes to leave the lights on, take extended showers and spend hours making long distance calls, it can cause a huge problem once your bills start to shoot up. Some people are simply wasteful when it comes to money and will not stop to think about how much money their behaviour is costing. Always keep copies of all your previous utility bills to have a record of how much you usually spend. Show your roommate the bills, and point out how much they have increased since he moved in. He can then choose to cough up the extra money, learn how to live more economically or contact Ashton Burkinshaw and start looking for a new home.
Make Sure All Tenants Are On The Tenancy Agreement
If you are the only one named on the tenancy agreement, then you are solely responsible for the rent and other bills. If your roommate decides to skip out owing one or more months' rent, you could find yourself thousands of pounds out of pocket and possible even homeless. Always insist that every tenant is put on the tenancy agreement even if it will only be a short let. You will also need to decide whose name will be on the utility bills and who will be responsible for making sure they are paid each month. Assigning one person the task of paying all the bills either online or by PayPoint will avoid situations where services get cut off due to each roommate believing the other person has paid the bill.
Beware Of Casual Tenants
If your roommate's new boyfriend starts sleeping over more than four or five nights per week, then you will need to sit down and have a discussion about new living arrangements. Many roommates encounter difficulties when it comes to overnight guests unless there are clear rules set down beforehand. Anyone that is spending the majority of their nights at your home, using gas, electricity and water on a regular basis and occupying the communal spaces is a tenant and should be responsible for a portion of the rent. Even if you and your roommate are currently single, it is always a good idea to have the discussion early to make sure everybody is agreed beforehand.
Sharing your home with one or more roommates is a great way to reduce the cost of living and increase your social circle. However, the benefits of shared housing can quickly get forgotten once financial disagreements start. In order to preserve the harmony of your home, draw up a roommate agreement that clearly states each person's financial responsibilities and the penalties for not seeing them through.
Hollie Brennan now works in lettings for a job but has also been through the experience of sharing with roommates. She enjoys being able to share her tips and suggestions regarding rental solutions and writes online for a number of property and lifestyle websites.
Get Your FREE Book Now
Enter your name and email address below to get your free copy of "How to Hack Your Spending."