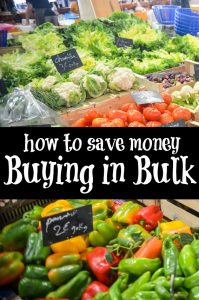 I have mixed feelings when it comes to saving money by buying in bulk. Done right it can definitely be a good money saving tool but more often than not I see people actually wasting money by using this strategy.
If you like warehouse shopping and want to make it work in your favor here's what to do. (And what not to do!)
# 1 – Buy Frequently Consumed Non-Perishables
Buying in bulk really only works well if you can actually consume your purchases before they expire. That's why you should only buy non-perishables that your family eats or drinks on a regular basis.
For my family this mostly only applies to drinks. Juice boxes
and Gatorade
are two items that will always be used before expiration.
Before heading out to the warehouse store make a list of the things your family quickly uses up and purchase only those in bulk.
# 2 – Buy Household Goods
Household goods like laundry detergent
, cleanser
, shampoo
, and diapers
are fantastic options when it comes to buying in bulk.
Be sure to compare the bulk prices to the regular prices and snatch up the good deals when you see them.
# 3 – Buy Meat in Bulk (But Not From a Warehouse!)
One bulk buying tip that I love is stocking the chest freezer with meat. Purchasing pork or beef from local farmers is a fantastic way to save a lot of money. While this will cost you more up front you can reap significant savings while getting a much higher quality product.
What Not To Do
Knowing what not to do is just as important as knowing what to do. Here's what you should watch out for.
Buy an Item You've Never Tried – I've been there, done that. Don't make the same mistakes I have. Do not buy an item in bulk that you've been wanting to try or think you might like. Stick with the things you actually use and love.
Buy Just Because It's a Good Deal – Always remember it's not a really a good deal if you don't need it. Don't buy something just because it's on clearance or seems like a bargain. Only buy because you planned on buying from the start.
Do you have any tips for saving money by buying in bulk?