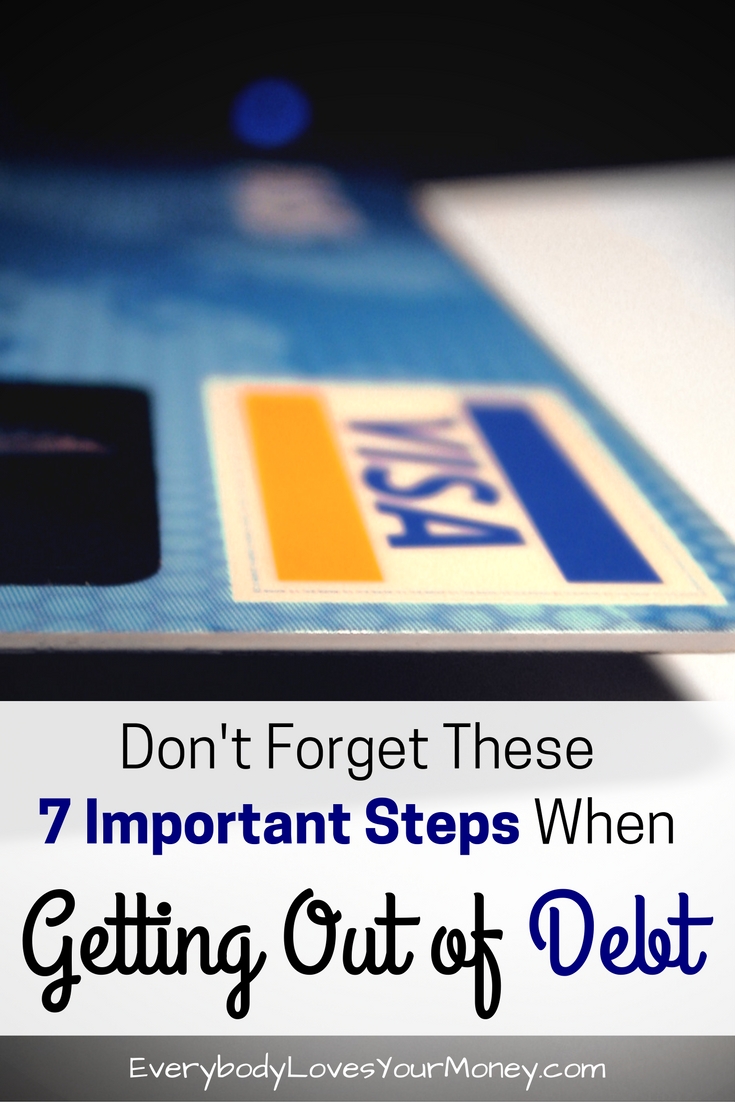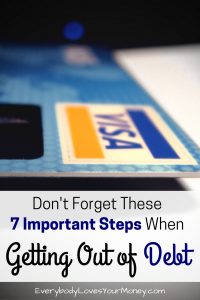 You've decided to make a change. You've looked at your life and decided getting out of debt as soon as possible is your next objective. I can say from personal experience that a decision like that can change the trajectory of your life.
Congratulations!
While you work hard toward your goal, remember there are a few steps that are easily overlooked. I learned that the hard way with several of these. Keeping these steps in mind will save you:
Often, a big change is made up of several small changes over time.  The power of a choice is huge in the financial world. Let's take a look at some of the choices you can make on your debt-free journey.
 7 Important Steps to Keep in Mind While Getting Out of Debt
1. Try to negotiate a lower payoff.
If you have the cash available, offer a lower payoff amount. You can also request a discounted payoff over the phone. Some companies won't negotiate payoffs; some have a threshold (for example, "No discounted payoffs under $200."). Others may chop hundreds or even thousands of dollars off your total if you've got some serious cash and are ready to send it.
2. Get your payoff in writing.
The company should send you a payoff statement when your debt is resolved. However, if you negotiate a lower amount, then you absolutely need that in writing. Prove the conversation happened.
I've heard about too many cases when the company refuses to honor a verbal agreement by denying the agreement ever took place. You can prevent that with proof in writing.
3. Cutting up your card does not close the account.
This one may be more commonly known, but I didn't realize that was true until I found old accounts on my credit report listed as "open." It happened long after I snipped my credit cards into shreds.
Even if you never make a purchase on the credit card, destroying it never closes the account. Call customer service or go online for account closing instructions once you've zeroed out your balance.
4. Double check your credit report after you pay off a debt.
Sometimes your credit report doesn't show the correct information when you pay off and close an account. For example, when I checked my report several years ago, I discovered an account had been opened in my name after I made a simple inquiry in a retail store.
5. As your getting out of debt, establish a "debt-free end date" for yourself.
Someday is not a day of the week. – Janet Dailey
This is more of a mental game than a logistical step. There is power in a deadline. How do you figure out a payoff deadline?
Figure out how much is left on your smallest debt.
Determine the max you can pay each month (while covering your expenses and minimum payments on each larger debt).
Calculate how many months it would take for you to pay off that debt.
If you want to establish a projected date when you'll be completely debt-free – I highly recommend it! – then repeat this step with all of your debt. Figure out when you can realistically pay it off and circle it on the calendar.
6. Opt out of junk mail and email offers.
After you pay off your debts, the last thing you want is to be bombarded with new offers to go back into debt. When my husband and I were paying off our debts, we sent a letter requesting all credit card offers ceased. I unsubscribed to many of the email offers piling up in my inbox, as well.
To opt out of credit card mailing offers, visit OptOutPreScreen.com or call 1-888-567-8688.
7. Celebrate your success.
It's hard to get out of debt. You often go without a great many things while your friends, co-workers, or neighbors enjoy them. Choosing one splurge as a final celebration is a great way to enjoy the journey toward that destination.
It doesn't have to be big. My husband and I paid off $22,000 and celebrated with a Nintendo Wii. We also upgraded our flip phones to smart phones after doing without during our debt-free journey.
Looking for ways to speed up the debt-free process?
Recommended Reading: "The Simplest Ways to Pay Off Debt"
What pitfalls do you avoid when paying off your debts? Share one with us in the comments below.
Image Credit: nacu via MorgueFile