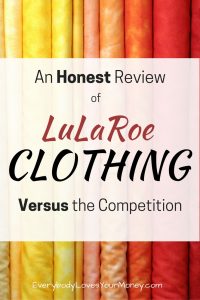 If you've received a request to join something called "LuLaRoe" by one of your Facebook friends, you're not alone. The up and coming clothing brand with the zany leggings experienced exponential growth in the last 12 months. According to Business Insider, its team of fashion consultants grew from 2,000 to over 35,000! But, is LuLaRoe clothing really better than competitors?
Let's take a look.
What is LuLaRoe clothing?
LuLaRoe is a brand of clothing best known for its "buttery soft" material and its funky patterns, particularly its leggings.
The company stands apart from most other clothing brands in that it's not sold in stores or websites. You can purchase the clothing in what's called "Pop-Up Boutiques." These can happen in person – like a Pampered Chef or Mary Kay demonstration.
The most popular boutique, however, takes place on the Internet's favorite hangout: Facebook. Consultants grow a customer base in their own LuLaRoe Facebook groups. They post when the boutique will be "open for business," offer giveaways, ask for customer feedback, etc.
Who are LuLaRoe's top competitors?
The most widely known competitors are department stores. However, you can also find similarities in Agnes and Dora (a clothing line similar to LuLaRoe and started by the founder's niece) or Legging Army. The latter primarily focuses on leggings versus complete outfits.
In recent interviews with two active LuLaRoe fashion consultants, I found out more about the growing company. Tonya Padget and Wendie Garden, both work-at-home moms with a passion for women of every size feeling great in what they wear, answered a few questions for me.
This review also includes feedback from several dozen LuLaRoe customers with whom I interviewed.
I asked each consultant what made LuLaRoe stand out against its competitors.
Their top answers were:
1. LuLaRoe's quality fabric
– "The material they use is blended to make them extra soft, comfortable and reduce pilling," Padget told me over Facebook. "Most people who try the clothing, especially the leggings, say that they haven't found anything comparable."
That's just what the customers told me. When I asked for the number one reason customers chose LuLaRoe, the most popular response was the quality of LuLaRoe clothing. Comfort. A nice fit.
Other customers liked the fun patterns (see #2), the wrinkle-free design, and the versatility of the stretchy fabric.
Cons: A small number of customers said they would buy more LuLaRoe clothing, but they've experienced fitting issues or simply didn't care for how the clothing looked on them. Consultants can probably help if you do experience fitting issues. If you don't like the look, well, it happens. Leggings with zigzags and peacock feathers aren't for everyone.
Other customers told me they couldn't wear their purchases as work attire. After examining LuLaRoe's product line up, I did see casual wear, but I also saw a large collection of possible work attire. Many of the dresses, skirts, and solid-colored leggings could most likely be worn to the office.
Basically, if you intend to shop LuLaRoe for every arena of your life, be aware that not every individual piece can dress up or down (but many can).
2. The unique patterns
– Comfort is a huge draw to LuLaRoe, but an equally unique aspect is the style. Fun and colorful patterns – particularly on their best-selling item, leggings – make LuLaRoe stand out from its competition.
According to fashion consultant, Wendie Garden, "They only run a limited amount of each print…Once that print is gone, it's gone. So, if you see one you love, you need to grab it now. This has created a high demand, and a bit of a frenzy. A really fun frenzy."
Not only are the patterns available for a short time, but they are also custom designed for each size. Garden explained by saying, "Our designer actually makes a unique pattern for each size in the same style. He doesn't just take one pattern and add inches, he literally cuts a unique pattern for each size.
"Real ladies are different sizes and need patterns that flatter their beauty specifically."
Cons: More than 80% of respondents said they hesitate to buy more LuLaRoe clothing because of the price. Clothing, like art, has a wide variety of price structures. If you love the painting, is it worth the price tag? If you're trying to be a frugal shopper, can you justify the price-per-wear?
That's your call.
One last item of LuLaRoe business – Saving you some money.
Since this is a blog that celebrates quality living and frugality, here are two great ways you can save money on LuLaRoe:
1. Take 10% off your next order
– Everyone loves a coupon. The two fashion consultants who contributed to this article are offering a coupon code for 10% off your next order – available at either of their boutiques ONLY. 
COUPON CODE: LHBLG10P 
(This coupon is ONLY available for following LuLaRoe boutiques and is not to be combined with any other offer):
Eligible Facebook Boutiques (you only need to join one):
Enter the coupon code LHBLG10P into the "Notes" section at checkout to ensure the consultant takes 10% off your order.
FYI – I don't receive any kind of incentive for you joining a group or using this coupon.
2. Enter a LuLaRoe Clothing giveaway
– If you decide to join a LuLaRoe Facebook group, but the price is still of concern, be on the lookout for giveaways. I'm still learning the ropes of boutiques, myself, and am sure there are other opportunities to save money if you ask a consultant.
Stay tuned for my next review of LuLaRoe by subscribing to Everybody Loves Your Money or following us on Pinterest.
Finally, not everyone is excited about LuLaRoe.  Savingadvice.com published a rather savage piece on the clothing retailer.  Check it out if you want an alternative viewpoint.
Your Turn: Have you ever tried LuLaRoe? What did you think? I may incorporate your feedback into my next review!
For more on LuLaRoe, and other ways to save money on clothing check out these great articles.
My LuLaRoe Review: Are the Wildly Popular LuLaRoe Leggings Worth the Hype?
How to Spice Up Your Life While Living On a Tight Budget
How to Build a Capsule Wardrobe
Image Credit: Tony Hisgett (Creative Commons)