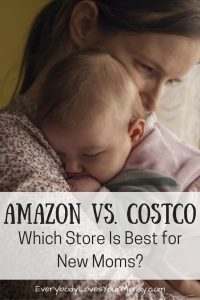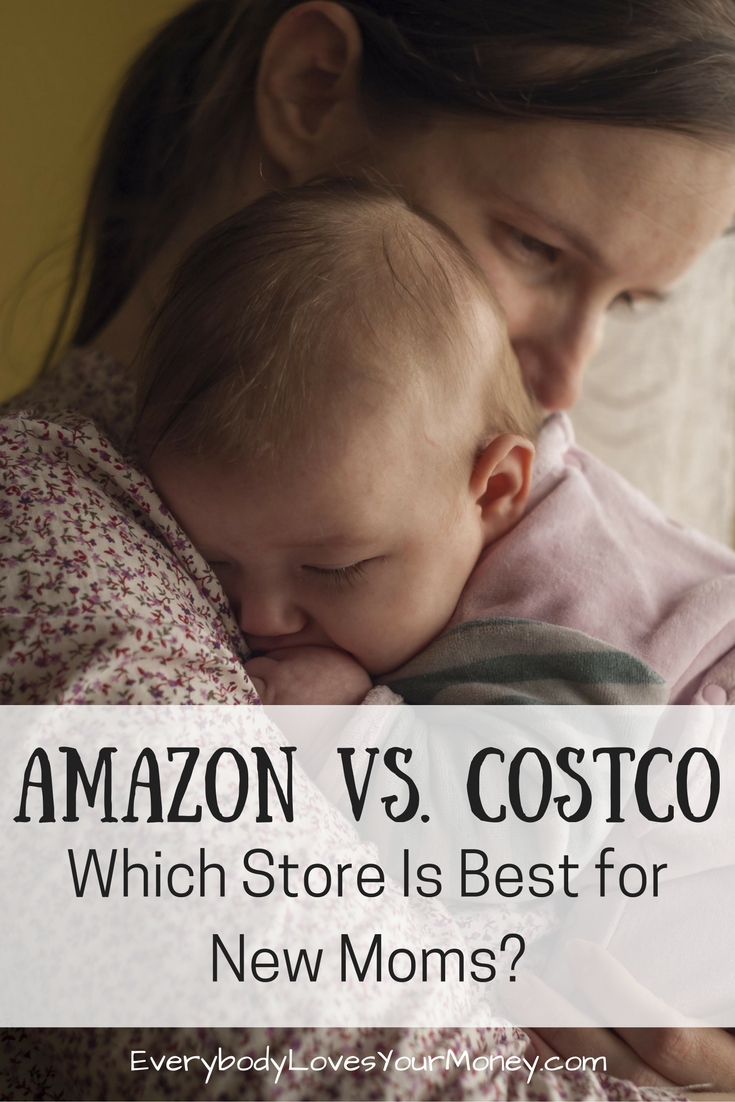 After becoming a mom, everybody wanted my money. When I opened my mailbox, a thick Pottery Barn catalog spilled out, offering chandeliers and plush rugs for my baby's nursery. When I logged onto Facebook, ads for Target and Babies R' Us lined the side of my screen. How on earth was I to know which one was the best store for new moms?
The answer comes through experience, I've determined. I've shopped at Target, Babies R' Us, Amazon, Costco, Meijer, Walmart, Kohl's, Ross, garage sales, online sales, and consignment sales to find what my babies needed.
It's not that there is one ultimate destination. But I will say there are always pros and cons to each store. That's why I've compiled a list of benefits to shopping at Amazon and Costco, specifically as a new mom.
Spoiler alert: These facts are simply here to inform. I recommend trying both. But let's take a look at what makes each one stand out, and you can decide from there.
Amazon Vs. Costco: Which Is the Best Store for New Moms?
The perks of shopping on Amazon
Variety – Amazon carries just about anything you could think of for your baby. Typically, it offers multiple options for each item. That is always great when you're trying to decide on things like wraps and carriers, breastfeeding pumps, pacifiers, humidifiers, etc.
Amazon Family – If you sign up for Amazon Family, which is basically Amazon Prime for parents, you could save even more money on specific items for each of your family members.
Amazon Baby Registry – If you choose to use Amazon for your baby registry, you receive all sorts of goodies and have a 90-day return policy.
Competitive Prices – It's tough to beat the prices of Amazon. You may not get a lot of customer service and the quality of the product varies like the weather, but they know how to offer competitive prices. You can also use things like CamelCamelCamel.com and Amazon's Price Tracking app to find the lowest price for your spending budget.
The perks of shopping at Costco
Quality items – Every person I spoken with who shops at Costco speaks well of their quality products. I'm able to feed my family healthier meats, snacks, and beverages than ever before because of the items I find in the aisles at Costco.
Great customer service – This never meant nearly as much to me as it did when I became a mom. When customers treat you with respect, go out of their way to find the products you need, and crack jokes with your kids in the check out lane, it makes such a difference in your shopping experience.
Cash back – One of the great things about Costco is its Executive membership card. You receive 2% cash back on nearly every purchase throughout the year. Costco sends you an in-store check with the total cash you've earned back. When we use that check toward our membership, it's nearly free. (It's true that there are also even greater savings if you open a credit card with Costco, but since becoming debt-free, I don't sign up for those types of deals anymore.)
Fresh produce in bulk – Of course the biggest difference between shopping at Costco and Amazon for moms is the fresh produce. At Costco, you can purchase bananas, deli meat, a rotisserie chicken, or baby spinach leaves. Often, each item you buy is in bulk so it lasts a long time (also a plus when you're a new mom).
Terrific return policy – Costco also has a really outstanding return policy.  You've got 90 days to return electronics, but otherwise Costco will take back pretty much anything.
So which is the best store for new moms?
Short-Term: Amazon – Shopping at Amazon is so universal and convenient for people, so creating a baby registry for many of your upfront expenses is extremely simple for all involved. Not only can your friends find gifts for you without going on a scavenger hunt across town, but they can also easily give you gift cards for Amazon which are available in most grocery stores and online.
Long-Term:
Costco – Establishing a healthy and cost-effective lifestyle takes time. If you want fresh, quality products for your baby like organic coconut oil, organic, raw vegetables for homemade baby food, etc., then investing in a Costco membership is very valuable.
Bonus Reading: "5 Ways to Earn Free Gift Cards"
In your opinion, which of these is the best store for new moms? Share in the comments below!
Image Credit: GaborFromHungary (MorgueFile)