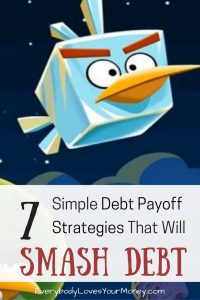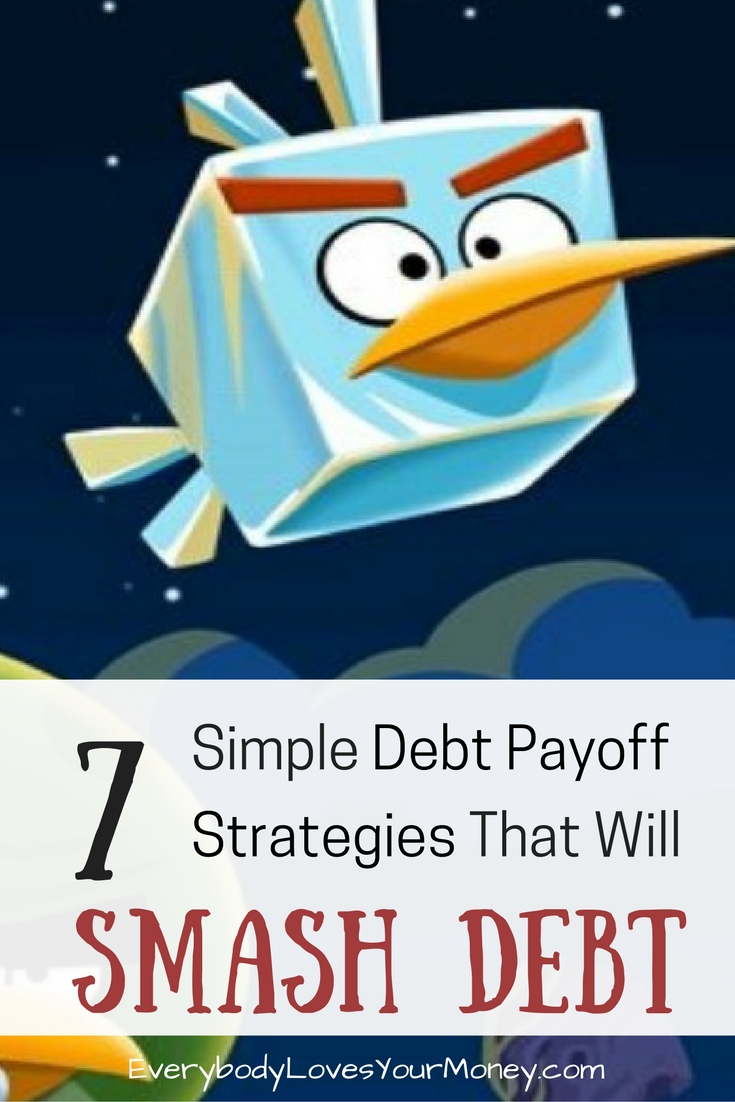 Ever play Angry Birds? There is something so gratifying about watching those pudgy birds smash into a crumbling fortress, isn't there? That got me thinking, it's too bad debt payoff strategies can't be as effective.
Or can they?
Not everyone can light some TNT under their tower of debt and incinerate it. Now that would be a popular app.
It takes much more time, patience, and hard work to eliminate debt. It also takes a good amount of planning, too. But in time, you can see that fortress crumble.
So, here are a few debt payoff strategies proven to work that you can implement into your life immediately.
7 Simple Debt Payoff Strategies You Can Use Today to Smash Debt
My husband and I tried these on our own debt-free journey in 2012. If you're looking for a way to accelerate your payoff plan, try these out. They worked wonders for us.
1. Grab some scissors.
The very first step I took in getting out of debt was to grab some scissors and snip my credit cards. It was uncomfortable losing my safety net until I realized that net came with 18% to 24% interest.
Instead, I opened up an emergency savings account and saved $1,000. That became my buffer against the world instead of a card burning a hole in my pocket.
2. Create a simple, zero-based budget.
What carried my husband and I through our debt payoff plan was a written budget. Even a simple one-page budget like this will help you understand where each dollar goes and what changes you can afford to make. It's called a "zero-based budget" because you start with your monthly income, then subtract each expense until you reach zero.
For more free budgeting forms and information, read "Jumpstart Your Finances with a Printable Monthly Budget Worksheet."
3. Establish an accountability partner.
It's hard enough reasoning with yourself about using debt, saying no to temptations, and sticking with your set plan every month. Finding someone to hold you accountable can mean the difference between paying off your debt in two years versus five.
4. Draw lines in the sand.
If you're serious about getting out of debt quickly, then one step you can take today is setting ground rules for yourself. Setting healthy boundaries like never compulsively signing up for a credit card to get that extra 15% or opening a savings account to make cash purchases instead of buying on credit are great debt payoff strategies.
Even if your friends aren't setting these, remember your "why" and stick with your boundaries. They may even learn from your example.
5. Calculate a debt-free date.
My husband had $22,000 in student loans and credit card debt when we got married. Without any financial planning involved, he assumed it would take seven years to pay off everything. Once we ran the numbers, cut back on everything we could, and eventually lived off one paycheck to pay off debt with the other, things changed.
Our new payoff date was in two years. We did it in 22 months. There is nothing that special about us or our ability to handle debt. Setting that debt-free date gave us a light at the end of the tunnel and blew some wind in our sails, too.
6. Live on less than you make.
Trim, trim, trim. Ditch cable, Pack your lunch. Bring coffee from home. Every cutback is temporary and can make a difference on paying off debt.
7. Immerse yourself in a supportive community.
You've made a commitment to get out of debt. The credit cards have been clipped and a debt-free date has been set.
Now what?
Now, you live each day differently in order to accomplish your goal. It's hard, and sometimes you can lose focus on the end prize.
That's why you need a supportive community of like-minded debt fighters. Picture your own team of Angry Birds, if you will.
For example, join a Facebook group like Your Debt Freedom Family. We take time each day to support one another as we get out of debt – judgment-free.

Every day has a different focus:
#MoneyMakingMonday – Members share how they're making money on the side to pay off debt.
#TopTipTuesday – Debt-fighting tips from those who are in the thick of it right now.
#WinningWednesday – If you've had a victory on your debt-fighting journey, tell us about it!
#ThankfulThursday – Gratitude is such a powerful tool when the going gets tough.
#FrugalFriday – Tips on how to cut back and save on daily expenses like food and gift-buying.
#WeekendWisdom – Inspirational quotes or stories to inspire everyone to keep going.
Members are also welcome to ask any questions or share any thoughts they have with the rest of the community at any time. The key word is SUPPORT.
Join Your Debt Freedom Family here!
For more on debt, how to live without it and how to use it to build wealth check out these articles.
Off Grid Living: Pointers for Pulling the Plug and Living a Debtless Dream
5 Ways to Motivate Yourself On a Debt Free Journey
How I Use Debt to Build Wealth
Image Credit: ThemePlus (Creative Commons)