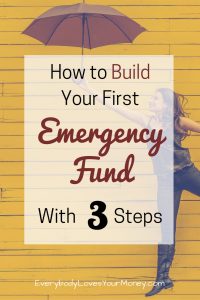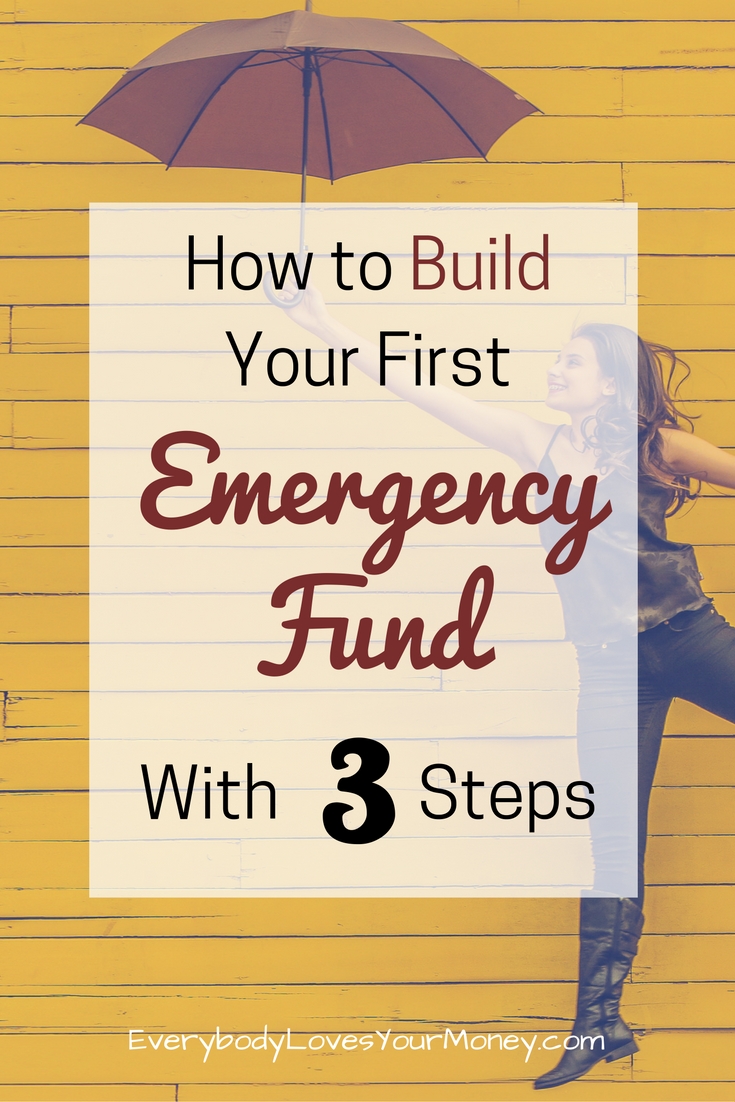 Emergencies, by definition, are stressful. Even more so if you're not prepared. Roughly 46% of Americans can't cover a $400 emergency without borrowing money, going into debt, or selling something, according to The Washington Post. The last thing you need during that time is to feel stress AND panic, anxiety, or shame. That's why taking defensive steps to establish your first emergency fund is so important.
For example,
Early in our marriage, my husband and I faced a dilemma. We were about to have a baby, had no savings, and didn't own a house. Our families disliked the idea of us bringing our child into a 700-square-foot apartment; they even offered to loan us money for a downpayment on a house.
That's what you do in life, right? Get married…buy a house…have a baby…
If we'd said yes, we would have bought a house with no money, no emergency savings, and plenty of debt – weeks before having a baby. I'm so glad we waited and built up our savings because our health insurance shot through the roof once I left my full-time job after the baby was born. We needed that emergency savings as a buffer between us and calamity much more than a big, expensive house.
Here is how we built our emergency fund, and how you can, too.
How to Launch Your First Emergency Fund In 3 Steps
Before you begin building your first emergency fund, make sure you are caught up what Dave Ramsey calls the "four walls."
Food
Shelter (utilities, mortgage)
Transportation
Clothing
Before you can save for future emergencies, you must clear up any emergency situations you're in currently – like late car payments or an unpaid electricity bill. You can't prepare for emergencies with the lights off.
1. Decide how much to save.
Many experts suggest families save $1,000 for their first emergency fund. This would cover the expense of a leaking radiator, a broken fridge, or an emergency trip cross-country.
The amount may vary. A single person with an inexpensive housing situation and a low income may want to start with a $500 goal. Conversely, a family with an irregular income, pregnancy, or health concerns may want to save $2,000.
The priority, however, is to begin.
2. Save as quickly as you can.
Designate or open a specific savings account JUST for emergencies. Fill it with every spare dime you can. Hit pause on some spending habits that month (i.e. bring coffee from home instead of Starbucks, pack lunches, etc.).
Or you can start a side hustle to earn extra cash.
For example:
Pick up extra hours at work or start a second job
Garage sales or consignment sales
Swap with friends vs. paying full price (throw a swap party, swap babysitting with another parent, etc.)
Earn money online (i.e. surveys, Fiverr, UpWork, Shopify, freelance writing, virtual assistance, graphic design, etc.)
3. Protect, protect, protect.
It's SO easy to justify spending money from your emergency savings. I'm guilty of it, as well. To protect yourself from the temptation, try the following:
Pay closer attention to your spending plan. Your budget just became your lifeline between maintaining a healthy emergency fund or not. If you spend more than you make, backup money vanishes.
Instead, honor your plan by budgeting monthly and tracking your progress.
Start saving up for non-emergencies. A broken appliance isn't technically an emergency. It's a home repair. If you continue to build up your home repair fund, then that's where the money will come for the broken fridge.
Likewise, cars are bound to need repairs, license plates are bound to expire, and phones are bound to get dropped, cracked or flushed.
Anticipating these parts of life with money set aside will not only keep your first emergency fund intact, it'll also improve your quality of life.
How much do you think you should (or did) save for your first emergency fund? Let us know in the comments below!
Image Credit: Edu Lauton (Unsplash)