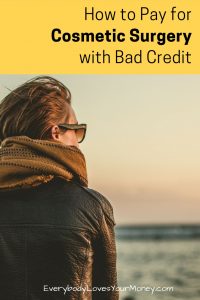 You may be considering cosmetic surgery soon or in the future. If you've experienced credit problems in the past, you may also be wondering how you'll cover such an expense. With the following options, you will be able to make an informed decision about how best to pay for plastic surgery with bad credit.
Even if you're turned down for a traditional loan once a credit check is performed, remember it's not your only option and not everyone requires a credit check. Due to the rise in cosmetic procedures each year (for example, a record-breaking $13.5 billion was spent in 2016), the government and businesses have rallied to create financial options for as many patients as possible.
Let's walk through how you can make the most informed decision for your health and wellness.
How to Pay for Plastic Surgery with Bad Credit
First of all, you need to estimate the cost of the procedure. Plastic surgery is such a broad field of medicine and expenses are sure to vary from region to region.
Not only that, but plastic surgery isn't purely about cosmetics. Some procedures like gastric bypass are considered plastic surgery and will be charged as such – to the tune of $20,000 to $35,000. If, however, you're just getting the occasional Botox treatment, look to spend an estimated $382 per visit, according to PlasticSurgery.com.
To see a complete overview of estimated expenses for aesthetic procedures, click here.
Next, it's time to decide how to pay for plastic surgery with bad credit. Can it be done? Yes. Here are a myriad of ways:
Apply for an unsecured loan.
If you apply for several loans in a short amount of time, each company will pull your credit report. This can, eventually, do more damage to your credit score. Make sure you review all of your options beforehand and choose the most likely candidate to approve your loan.
That option may be an unsecured loan, like an unsecured credit card or personal loan. These loans typically have a higher interest rate or could raise the rate significantly after a trial period ends. The best idea is to always read the terms and conditions before you ever sign on the dotted line.
Raise your credit score.
If you don't like the prospect of a higher interest fee or want to stabilize your overall financial position before opting for plastic surgery, one way to do that is to raise your credit score. Some ways to do this are to:
Open multiple credit cards and maintain low balances on them.
Avoid closing lines of credit quickly.
Eliminate as much debt as you can. Not only does this free up more cash each month, but it reduces stress and reduces your chance of defaulting or going bankrupt. Thereby, your credit score won't continue to descend.
For more options on improving your credit score, check out MyFICO.com.
Save up for the procedure.
One of the healthiest signs of financial stability is the means to pay for things in cash. If you want to pay for plastic surgery with bad credit, establishing a new savings habit could be a great way to prepare for it. Many financial experts recommend putting away $1,000 in an emergency savings account to have ready at all times. Imagine how it would feel to have a buffer like that in the bank as you prepare for a medical procedure or fight your way out of debt.
Bonus Reading: "5 Savings Accounts That Pay a Cash Bonus"
Final Thoughts
The most important thing you can do for your overall health is to make the best decisions you can in the various areas of your life – especially when it comes to your financial well-being. To learn more about what cosmetic procedures could be right for you, check out RealSelf, a review site with feedback and recommendations from real patients.
What tips do you have for making medical decisions with a lower credit score? Share in the comments below!