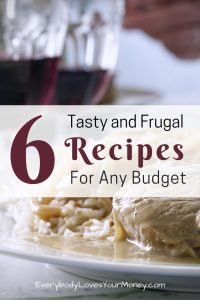 Food is the biggest budget buster in our house. If you're trying to eat well and stay out of restaurants, here are several tasty and frugal recipes we've enjoyed over the years.
To make things simpler, I've separated today's recipes into three categories:
Meals with leftovers: After all, what could be more frugal than cooking one meal that feeds your family multiple times?
For the diet: Frugal recipes for healthy living absolutely exist. Let's bust the myth that you can't diet on a budget, shall we?
For the kids. One of my biggest expenses is snack time. Ugh. I wish convenience didn't equate greater cost, but it really does in this area. Handing my kids a package of fruit snacks is far easier than slicing up an apple or making homemade fruit leather. (I didn't include a recipe for fruit leather.)
Frugal Recipes with Leftovers
Mexican Spaghetti Squash & Shredded Chicken
I found this recipe on one of those magical videos floating around Facebook that rapidly preps a meal before your eyes. After scouring the Internet for the original video, I can't seem to find it. Here is one that is very similar and has more ingredients. Check it out if you want a second approach to this meal.
Ingredients:
1 spaghetti squash, halved and scraped out
1 jar of salsa
1 lb boneless chicken breasts, thawed
1 package of taco seasoning
Directions:
Lay the chicken breasts into your slow cooker. Cover with salsa and taco seasoning. Lay one half of the spaghetti squash face down on the top of the other ingredients. Cover and cook on high 3 to 4 hours or low 6 to 8 hours.
Variation: We like to try different types of salsa for this meal, my favorite being the mango salsa available at Costco.
Cream of Celery Pork Chops
Recipe Credit: Andria Maus (My matron of honor who gave me this recipe in my first year of marriage.)
Ingredients:
1 can of Cream of Celery Soup
1 cup of milk
4-6 pork chops
Directions:
Sear pork chops in a hot skillet for 5 seconds per side. Whisk together the Cream of Celery and milk. Pour half the mixture into a glass baking dish. Add pork chops, then remaining mixture and cover. Bake for 30 minutes at 350°F.
For the Diet
Parmesan-Roasted Cauliflower
Recipe Adapted From: The Biggest Loser Cookbook (I simplified and "frugalized" it a bit, but it's still majorly tasty.)
Ingredients:
1 cauliflower, cut into small florets
2 tsp. Parmesan cheese
1/4 tsp. garlic powder
1/4 tsp. black pepper
1 tsp extra-virgin olive oil
Mix everything together in a large bowl and transfer to a nonstick baking dish. I like to sprinkle a little more Parmesan cheese on top before baking. Bake for 20 minutes at 425°F or until lightly browned. This is a great dish to bring to gatherings or just to serve as a healthy side for dinner.
PB&J Roll Ups
Recipe Adapted From: The Biggest Loser Cookbook
Ingredients:
1 whole wheat flower tortilla
Natural creamy peanut butter (or any nut butter of your choice)
All-fruit spread of your choice
Directions:
Make a standard PB&J on your whole wheat tortilla, roll it up, slice it and serve.
Tasty Variations: This is so quick an easy if you want to roll up a whole wheat turkey wrap with fresh baby spinach, tomatoes and a thin layer of light mayo. Or tuna and sliced pickles. We're not done experimenting.
For the Kids
Sweet Potato Hors D'oeuvres
My kids devour these every time I make them!
Recipe Adapted From: Super Baby Food
Mix:
2 cooked and peeled sweet potatoes
1 beaten egg
2 Tbsp of milk
Shape them into balls and roll into bread crumbs. Bake until the egg cooks through. Cool and serve.
Tip: I ended up freezing half my batch which made great snacks down the road for the kids.
Honey Milk Balls
Recipe From: Super Baby Food
Ingredients:
1/2 cup honey
1/2 cup creamy peanut butter (or any other nut butter you prefer)
1 cup nonfat dry milk powder
1 cup rolled oats
Directions:
Mix everything well and form into balls. Cover each by rolling into wheat germ. Bake at 350°F for 15 minutes.
Can't beat healthy, tasty and homemade finger foods for kids, right?
Readers, please let us know what you think of the recipes included in this article. Got any others you'd care to share?