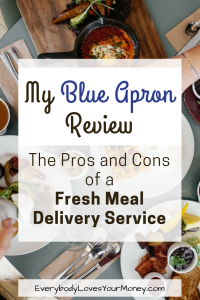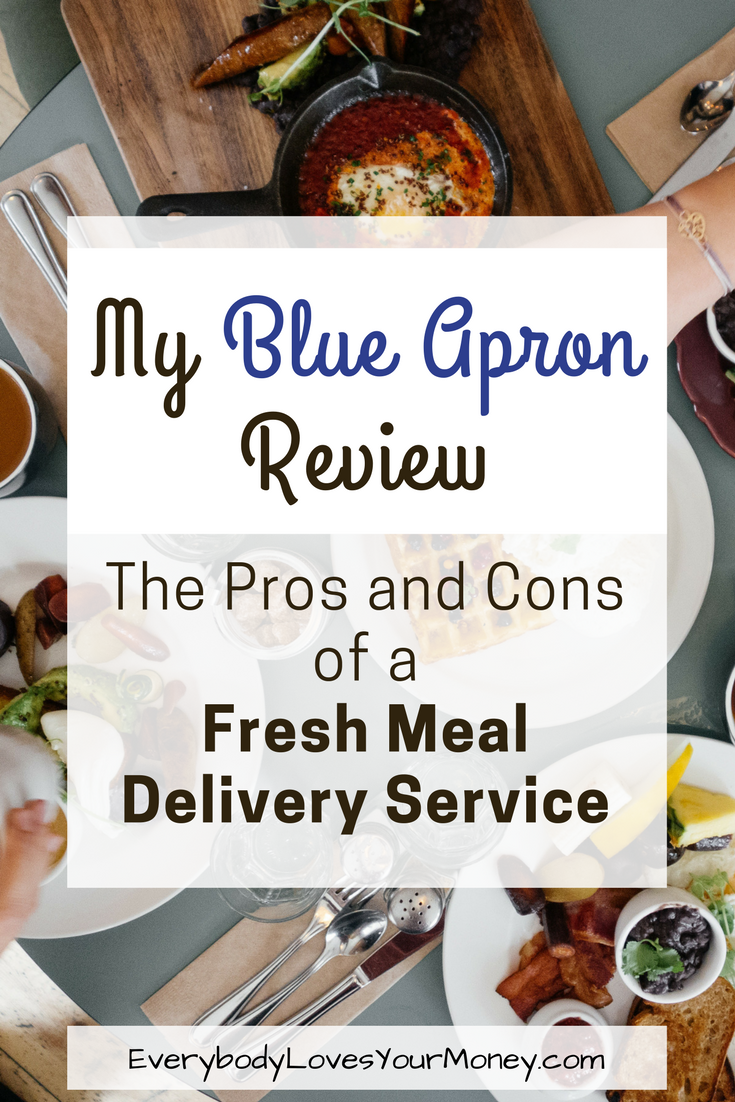 For me, Blue Apron was the defibrillator my pallet needed to experience new foods, flavors, and aromas. I have a busy life as a work-at-home wife and mother of two. Because of this I often get stuck in the same cycle of meals: Taco night, spaghetti night, stir fry night, pizza night, etc. My husband and I want to eat healthier and get away from processed foods, but it's hard to pick recipes that will be worth the effort when it takes so much time and expense to prepare them, so we tried blue apron. This is my Blue Apron review.
Blue Apron's motto is, "Food is better when you start from scratch." This one-minute video does a great job of explaining that benefit in greater detail. If you're new to Blue Apron, start here:
Now, let's take a look at my first experience with Blue Apron.
My Blue Apron Review: Are Fresh Delivery Meals Worth the Cost?
Getting Started
Setting up my account on Blue Apron's homepage was very straightforward. At the time of this writing, they offer the first three meals for free to "new chefs" and assigned three meals automatically to show up on my doorstep. You can customize your order if you have any dietary preferences or restrictions. Delivery took a little less than a week.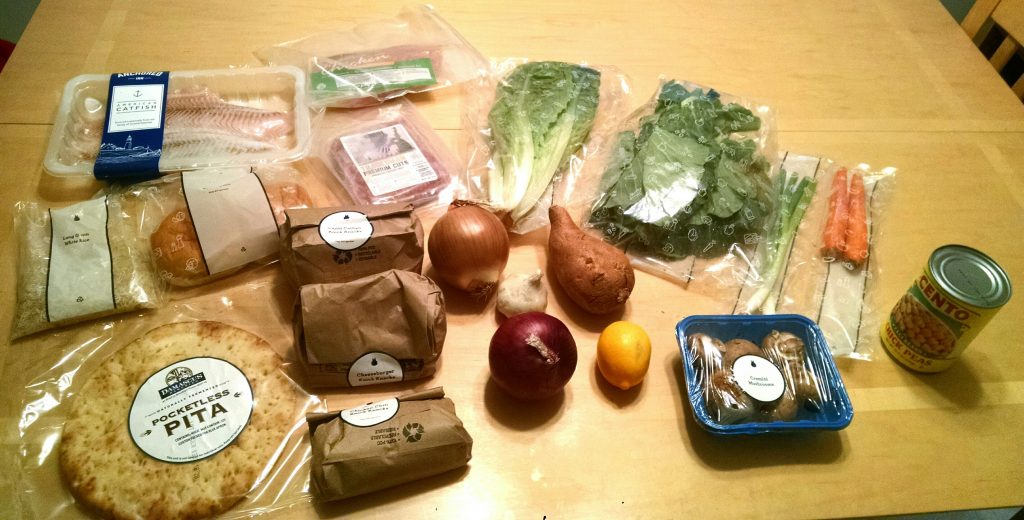 My three meals arrived on schedule.
My 4-year-old and 2-year-old could barely contain their excitement. I couldn't help but be eager, too. Upon opening the box, we discovered three meals' worth of colorful, fresh ingredients staring back at us. I'd cooked things like onions, carrots, and mushrooms; however, new foods like collard greens and new flavors like cajun catfish were about to grace our dinner table.
I loved the challenge and the freshness of it all. It truly was a chance to cook gourmet meals (without skipping or substituting the more expensive ingredients) from scratch.
Each meal comes with a clearly laid out recipe and suggested wine pairing that is available for an additional cost. I appreciated the clear layout of the cooking instructions since many of the meals required multitasking and quick hands.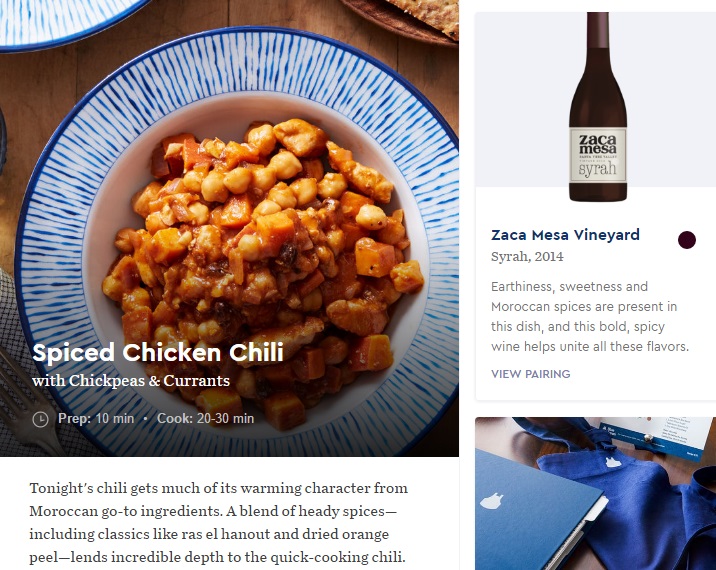 Cooking with Blue Apron – Pros and Cons
PROS
The food was delicious. They weren't kidding when they said food from scratch is best. I loved trying out all the various seasonings and adding garnishes. The kids' excitement carried on through the cooking process as they helped me add salt or sprinkle scallions or ask a million questions about the ingredients.
Blue Apron gave me a great opportunity to teach them about the nutritious benefits of things like sweet potatoes, fish fillets, and kale salad. Older kids can get even more involved by learning new cooking or food prep techniques like how to slice an onion or sauté mushrooms.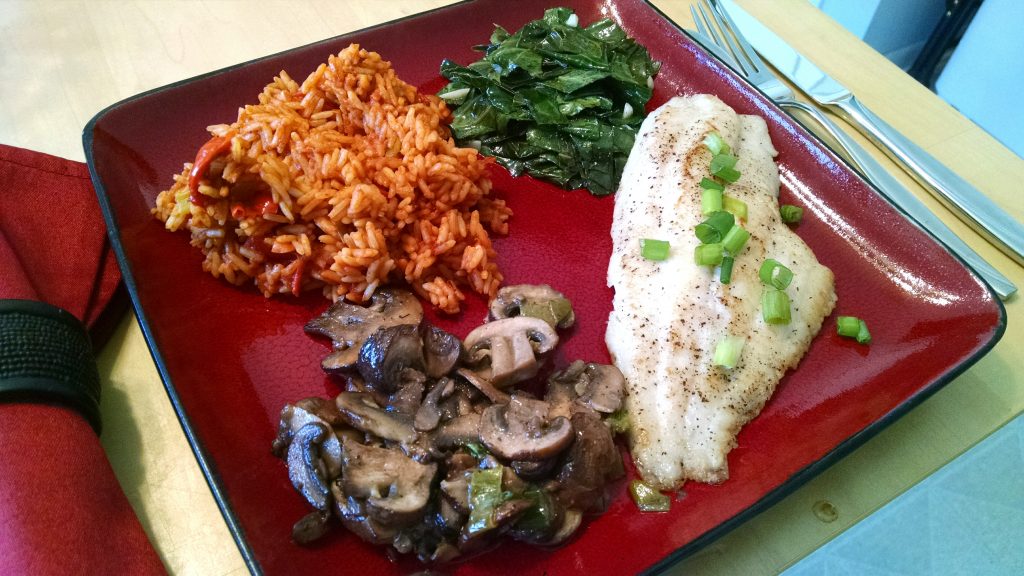 A third pro to Blue Apron is that it has provided my husband and me the opportunity to sample healthier meal options. We'd like to eat more fish, for example, but I didn't really know my way around cooking seafood. Blue Apron gave me that chance. Since then, I've loaded up our freezer with salmon, shrimp, and catfish to jazz up our dinners.
CONS
Each recipe card gives an estimated prep and cook time. As a quasi-amateur chef who knows her way around an onion or garlic clove, I discovered the prep time was quite a bit off. Some of them said it would take 10 minutes. When you must wash and dry your fresh produce, slice, dice, mince, peel, and chop several ingredients, it simply takes time. I clocked myself and the fastest I finished was in 25 min.
Granted, that's also with two kids under management and no assistance. Perhaps if a kidless couple was doing this together, it'd only take 10 minutes.
Another drawback is that these meals are great for teaching kids new foods, but they're not very kid-friendly. My 2-year-old wasn't about to eat a spicy kale and radish salad or cajun rice with collard greens. I'd love for the kids to grow into meals like that over time, but just be prepared for that possibility and keep some leftover macaroni and cheese in the fridge as a backup.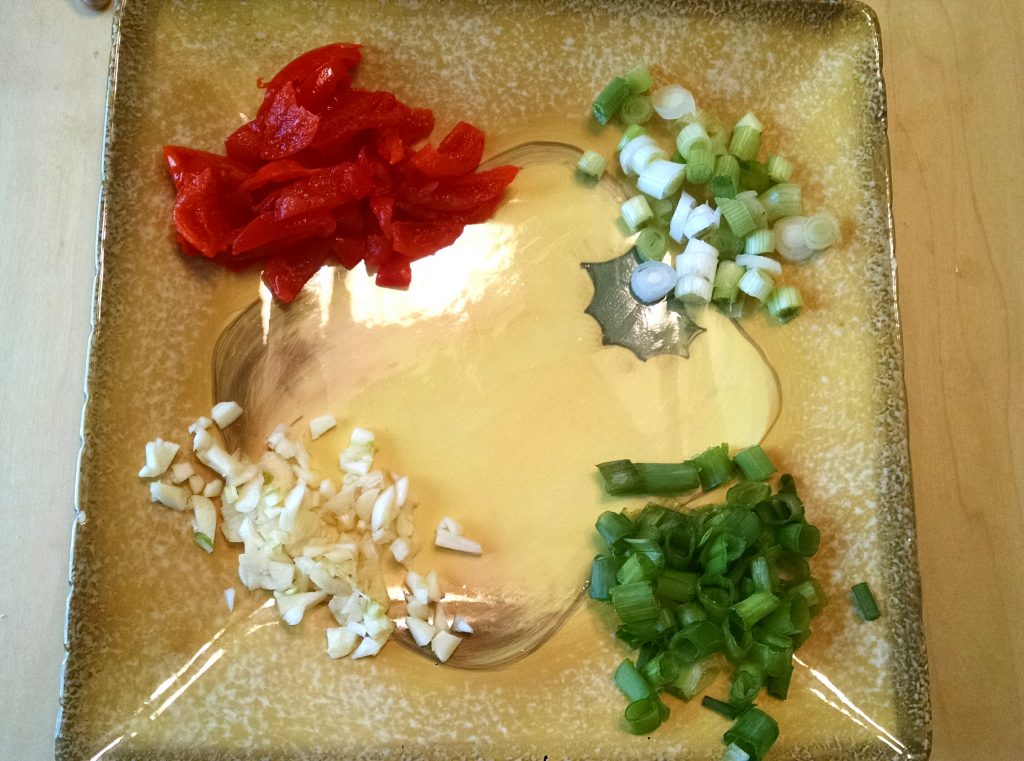 Another con is the expense if you were to do this long-term. Is it worth $60 to $140 per week (depending on your family size) on meals? Here are my thoughts:
That's a lot of cheddar. However, if it's what catapults you into a life of healthier eating and making more memories around your dinner table, then it might be worth it. It's a whole lot cheaper than medical bills, right?
Blue Apron Review: My Conclusion
Blue Apron gave me a chance to go to culinary school at home. but, based on our financial situation, it's a luxury we can't afford over the long-term, but I can definitely see this as a great way to educate yourself for a season. You could collect new recipes, experiment with foods you've never thought to try, and simply have fun in your kitchen. Blue Apron has a number of vegetarians and pescetarians options, so they have choices for a wide variety of diets. Click here to navigate to their weekly recipe listings.
I also think this would be a tremendous wedding gift or house warming gift. Make sure whoever receives it understands what's involved and that they're not "ready-made" meals. That way, they can plan their evening accordingly.
Ready to give Blue Apron a try? Click here to get started or check out the ad to the left. Both are good for $30 off your first order.
Was this Blue Apron review helpful? Would you ever try it? Let us know in the comments below or share this article on social media.
Full disclosure: I obtained three free meals for the purpose of reviewing Blue Apron. However, the opinions and thoughts shared below are entirely my own.
See what the budget and invest, cleverdude and thousandaire thinks about the Blue Apron.