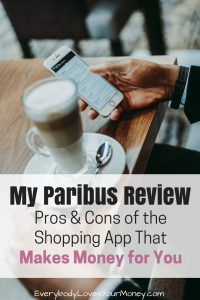 People are projected to spend $523 billion shopping online by 2020. With that comes the ever-growing challenge of saving money. Some popular methods are things like online coupons and codes, but today, we're going to cover how to earn money back through your online receipts via the free app Paribus. Below is my own Paribus review to walk you through the software, the pros and cons, as well as my own experience.
My Paribus Review: The Pros and Cons of Saving Money Online Through Paribus
There are so many ways to save money with apps nowadays. Amazon has Price Tracker, Walmart has Savings Catcher, and Swagbucks gives you points toward gift cards when you shop through their online portal. But what is Paribus and how is it any different?
What Is Paribus?
App: Paribus Receipt Fetcher
Compatibility: iOS products
Function – according to Paribus: "We'll watch for price reductions on items you buy from select merchants. When we see a price drop, we'll contact the store to get you a refund."
For example, let's say you bought $50 shoes from Target.com last week. Today, you logged on and discovered the same pair only costs $35! Paribus will automatically ask Target to refund you the difference = $15. If they succeed, you'll receive $15 in return.
The Pros and Cons: Paribus Review
With any new product comes its strengths and weaknesses. In each product I test and review, I feel it's important to be honest, informative, and unbiased in my report. Therefore, here are the pros and cons of using Paribus, in my own estimation.
Pros
Automation. Once you've set it up, it automatically reads your online receipts. You don't have to take pictures of your receipts or manually enter information each time. This makes the user experience much less time-consuming.
User-friendly app. My experience with navigating the app was very straightforward. You basically know what's going on from step one.
No cost to you. It doesn't cost you anything; it makes you money. Paribus earns their money by taking a percentage of what you would get back simply as their third-party fee. So you basically earn money for doing nothing and they can earn their profits without dipping into your pockets.
Cons
Limited retail options. Paribus is only available to a select number of retailers. Also, only certain purchases are eligible. The goal here is to use Paribus, but do not assume it will earn you money after every purchase. You can view a list of eligible retailers here.
Private information required. I will be completely honest; as a first-time user, I was a bit alarmed that the sign-up process required my consent for them to have so much access and control over my email account. They also requested my Amazon login information and my credit card information.
That's a lot of personal info and many consumers have reported significant concerns in giving it. In my research, I discovered that no one reported a breach in their confidentiality or any fraudulent activity against their accounts at the time of this writing. Please understand, I don't have authority to guarantee that this software is secure; I am simply a consumer who tried out Paribus and am reporting my honest observations to you.
If you're uncomfortable with linking your Amazon account or credit card info, there is the option to "Skip" those steps during the sign-up process. (See below)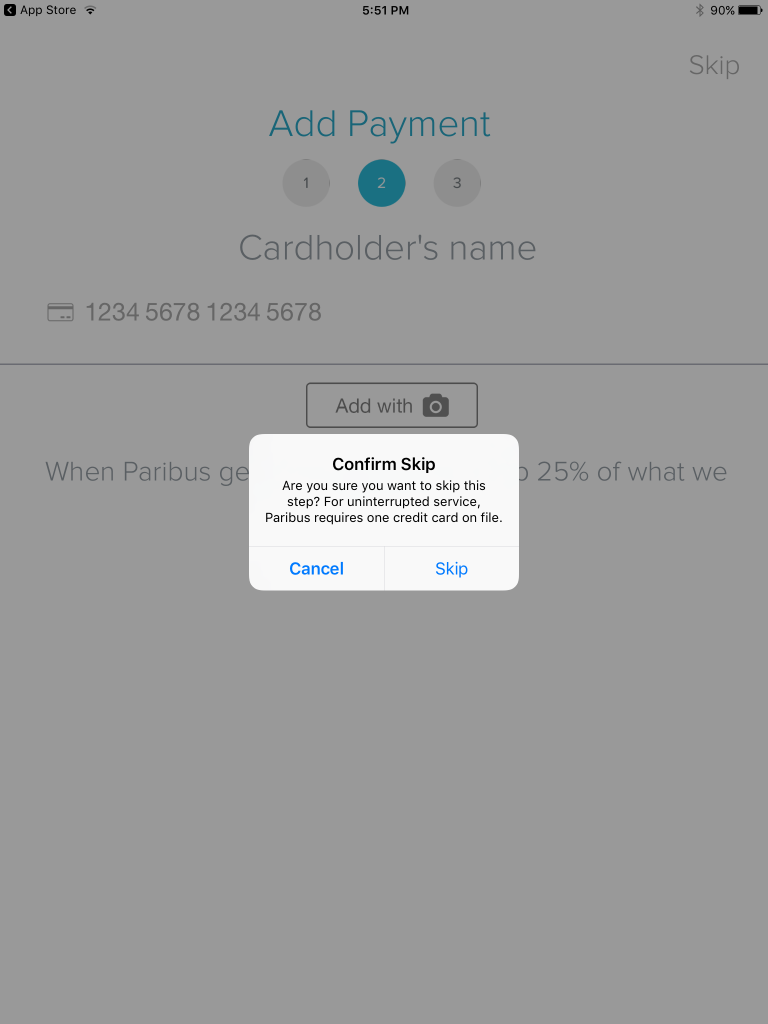 Technical hiccups. For whatever reason, the app wouldn't accept my login for Amazon, even after I double checked my information several times. It's always possible that it was user error, but upon further research, I discovered that other users have experienced some technical difficulties. Your best bet is to read the reviews on the app's download page to ensure you're as informed as you can be before you dive into this process.
My Paribus Review Conclusion
Did I earn money back on my purchases? Not yet. I am a lightweight in the online shopping world. By that, I mean I don't do a large amount of shopping. Therefore, I haven't earned any money back in the short time I've used Paribus, yet. I'm not the best source to take from, however, so I searched long-term users' reviews and this is what I discovered:
If you already shop regularly online, and you stick with Paribus over the long-term, you're likely to make money. Users who shopped infrequently, like me, did not see a large return from having the app installed.
Is using an app like Paribus a replacement for good financial habits? Not remotely! You'll never shake hands with a millionaire who says she built her wealth from using Retail Me Not or credit card points or Paribus. Money-saving apps are great for maintaining good financial habits, but they do not replace those key components such as:
Budgeting
Saving for emergencies
Living within your means
Eliminating debt
How to Sign Up for Paribus
Sync your email to Paribus. This is the only way Paribus has authority to review your receipts and credit you with cash back.
Review your account on Paribus and see what cash has rolled in.
Get paid.
What are your favorite online shopping hacks? Share one below!
This post was sponsored by Paribus.
More Paribus reviews from our friends: