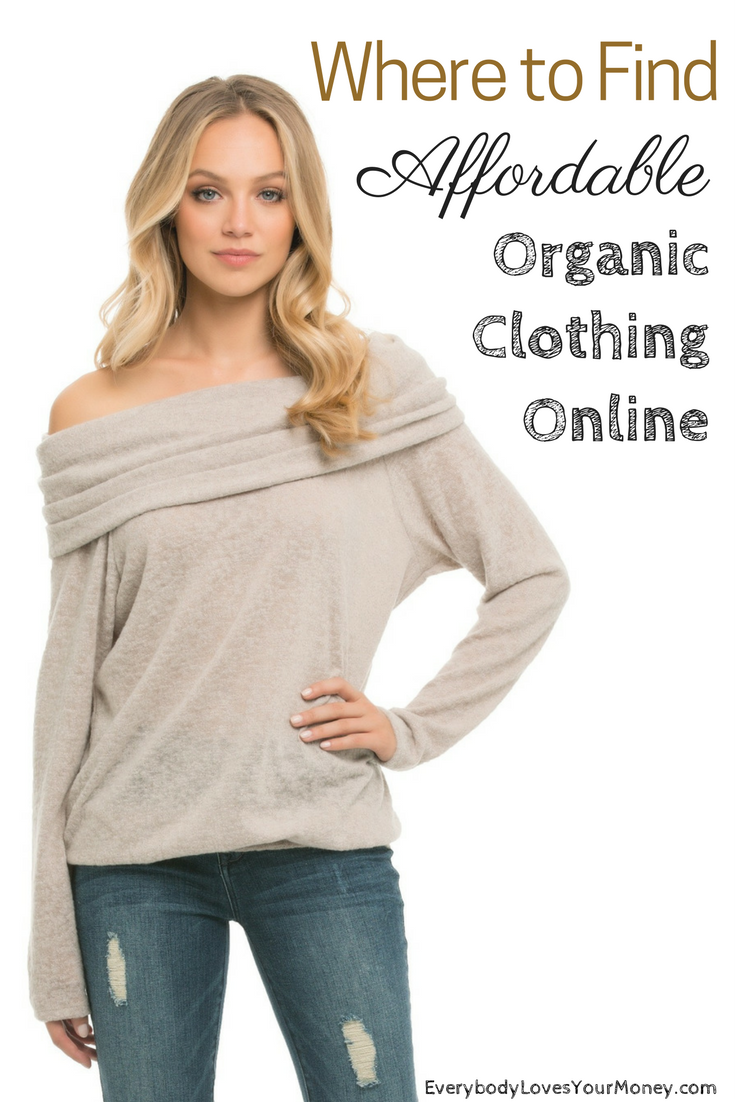 The great thing about eco-friendly products growing in popularity over the last decade is that more companies sell them. With more demand comes more commerce, more competition, and, ultimately, lower prices. Because of that shift in the world of fashion commerce, affordable organic clothing is a reality for middle-class families, too.
Q: What is organic clothing? Isn't organic in reference to stuff you eat?
A: I asked that question the first time I heard about organic clothing, too. Turns out it's talking about the materials with which the clothing was made. Here is Wikipedia's definition:
Organic clothing is made from materials raised in on in or grown in compliance with organic agricultural standards. Organic clothing may be composed of cotton, jute, silk, ramie, or wool.
Q: Why is it more expensive?
A: The fibers that comprise organic cloth don't contain genetically modified seeds or toxins used on plants like pesticides. To qualify as a certified organic product, steps must be taken to ensure each ingredient is free of any harmful chemicals on the farm from which it was grown.
Where can you find affordable organic clothing?
According to Forbes, the apparel industry in the U.S. is a $12 billion cash-generating machine. Every year, the average family hands over $1,700 for their clothes. With the student loan crisis and outstanding credit card debt nipping at people's heels, it's easy to assume we simply cannot afford to purchase eco-conscious food and apparel we'd like.
However, here is a list of ways to obtain affordable organic clothing without taking out a second mortgage to do so.
Alternative Apparel
Get fit or just get comfy with the organic t-shirts, leggings, hoodies, and more at Alternative Apparel. Their primary focus is to use eco-friendly fabrics, recycled materials, and non-toxic, low impact dyes. Plus, you can choose a trendy new top for less than $25. Not bad.
Threads 4 Thought
The couple who founded Threads 4 Thought in 2006 had one mission in mind: To create more sustainable and beautiful clothing. With their graphic designs interwoven throughout their line of tops, dresses and more, this company stands out in the affordable organic clothing industry.
PACT
From organic socks to undergarments to dresses, PACT offers a plethora of super-soft cotton apparel for an affordable price. Currently, leggings are on sale for $20 and a relaxed fit tee is just $15.99.
Under the Nile
If you feel as strongly about wearing organic, non-toxic fabric and dyes, you'll likely feel the same once a baby comes along. Under the Nile sells organic Egyptian cotton apparel for babies and toddlers. So, you can rest assured the fabrics resting against your baby's skin are as healthy as can be.
Kate Quinn Organics
As your toddler moves into preschool-age, he or she can still wear eco-friendly apparel from Kate Quinn Organics. Sizes range from birth to 4T for boys and girls. Therefore, check out their "Clearance" page for their most recent sales here.
In summary, your two most powerful financial tools are your income and your budget. I believe they go hand in hand. If you're not in a position to invest in affordable organic clothing right now due to a lack of extra income, it may be time to review your budget. Spend some time reducing how much money goes toward car payments, bills, subscriptions, etc.
For more information on creating a functional budget, check out our article:
"Jumpstart Your Finances with These FREE Printable Budgeting Worksheets"
Have you found somewhere to buy affordable organic clothing that you love? If so, tell us about it in the comments below!
Enjoy Our Content?
Subscribe to get the latest from "Everybody Loves Your Money."