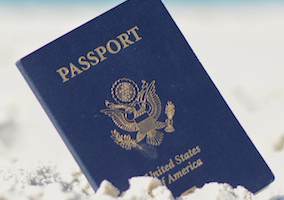 Don't let identity thieves ruin your travel. Whether it's a trip for work or pleasure, protect yourself by following these suggestions.
Keep a Low Profile
Resist the temptation to tell everyone you know on Facebook that you're about to leave town; save it for after you get back and have photos.
Instead, one of the best notifications you can give about your upcoming trip is to tell your bank and credit card issuers when and where you're going — that will help protect your finances.
To protect your home from becoming targeted by would-be identity thieves, set your lights on an automatic timer so no one thinks you're away. Ask a trustworthy neighbor to empty your mailbox so it doesn't overflow and enable people to steal your mail.
Speaking of which, when you get back, don't toss any unopened mail into the garbage without shredding it first.
Don't Overconfide
Keep all information sharing to a minimum at every step of your journey. While you do need to provide contact information to staff who check you in and out of hotels, flights, long-distance trains, and car rentals, don't convey any additional details beyond what you are asked for.
When answering their questions, lower your voice or write down your replies instead of saying them aloud — to prevent would-be eavesdroppers from learning anything that could be used to steal your identity.
Similarly, rein in what you might tell anyone you meet for the first time on your trip — all it takes a thief or hacker to get started is one good piece of contact information.
Travel Light
Mugging or pickpocketing can really ruin a trip, so make yourself harder to rob: Keep your passport, driver's license and payment cards in a money belt and wear it at all times (within reason).
Leave at home anything you don't absolutely need — especially paper documents with information about you, like your checkbook or bank statements.
Unless you have a health condition requiring you to provide proof to obtain special accommodations, there's no good reason to bring along any medical documents.
Now make sure you don't accidentally bring any of these documents: Before you pack for your trip, clean out every pocket of your luggage to make sure there aren't any personal papers left in them.
Lock Things Up
Your hotel room should have a safe — or at least the front desk should provide you with access to a safe.
Put your valuables in the safe before you leave the hotel and wear your money belt anytime you go out.
Never leave any of these items lying about in the hotel room, because you never know what can happen to them when housecleaning comes in to make your bed.
Go Offline or Incognito
Limit internet use while traveling, or at the very least exercise caution when you do go online. Avoid using public computers if you can help it, and if you have to resort to using one, only visit secure and encrypted sites that contain "https" at the beginning of the address. Log off of every site before exiting and delete all session data — cookies and browsing histories — before signing off the internet.
Even if you go online using your own device, it's a good idea to maintain strong passwords for all of your information you might access onine and stick to encrypted or secure websites. Use strong passwords for logging onto all of your electronic devices, and log off of them when you are not using them. Apply stricter security settings on your mobile phone so that it locks whenever you're not using it.
On all of your electronic devices, change all of your settings to not remember passwords; and prevent your information from being automatically saved by browsing the internet using incognito mode. The correct command for this varies by browser — directions for each of them appear here.
Save yourself from having to remember the incognito commands every time you go online by making incognito the default setting for all of your internet usage while you travel.
Use Cash
Pay for things with cash instead of a card if you can help it. Unless you do exhaustive research about every single restaurant, store and entertainment venue you plan to visit wherever you are traveling, you really don't know with certainty how safe you will be if you use a credit or debit card in any new location that isn't a bank.
While travelers checks can protect you from theft or loss, they also have a way of announcing to the world that you don't live in the area, which unfortunately can make you a target for thieves.
While most credit and debit card issuers have fraud and identity protections that should cover you in the event of any theft, you might not recoup your losses instantaneously, and possibly never in the case of some foreign countries.
Try to limit your withdrawals from ATMs to machines in bank locations. Hackers continue to find ways to compromise nonbank ATMs and copy card numbers from them.
Once you return home from your trip, check your bank account to confirm the legitimacy of every cash withdawal or transaction that took place while you traveled.
Don't Let Identity Thieves Ruin Your Travel
No matter where you go nor how long you're away, your absence from home can become a starting point for identity thieves if you don't take steps to protect yourself when you travel. Protect yourself so that you can fully enjoy your trip while you're on it and when you look back on it after the fact.