GBP/AUD is the representative symbol of the British Pound – Australian Dollar currency pair. It's one of the most volatile pairs among the Cross group (referring to currency pairs that do not include USD). This article will cover the characteristics GBP/AUD and provide 2 major trading tips for it.
GBP/AUD Characteristics
There are 2 main reasons why forex traders prefer the GBP/AUD. They include:
High volatility: The GBP/AUD is composed of the two currencies with high liquidity. Therefore, trading opportunities are never rare on the GBP/AUD chart.
Wide day-trading range: According to the Average True Range indicator within the last 6 months, the GBP/AUD often moves about 135 pips a day or more. This is a relatively large number compared to other currency pairs.
With these advantages, GBP/AUD is certainly attractive for short-term traders. However, trading this currency pair is also a challenge because high volatility usually brings high risk. Traders using high leverage may find GBP/AUD too difficult and risky to trade, due to its volatility and wide trading range.
Tips for Trading GBP/AUD
Prioritize Long-Term Trading
Although the GBP/AUD can deliver good profits for day traders, short-term trading with this currency pair carries high risk and is not suitable for most traders. Therefore, if you'd like to trade GBP/AUD, you should consider long-term analysis.
The image below shows the trading activity of GBP/AUD on a daily chart. We added a 50-period Simple Moving Average (SMA), and you can see that GBP/AUD's long-term trends are relatively easy to trade. You can look for trading opportunities when the price approaches the SMA 50.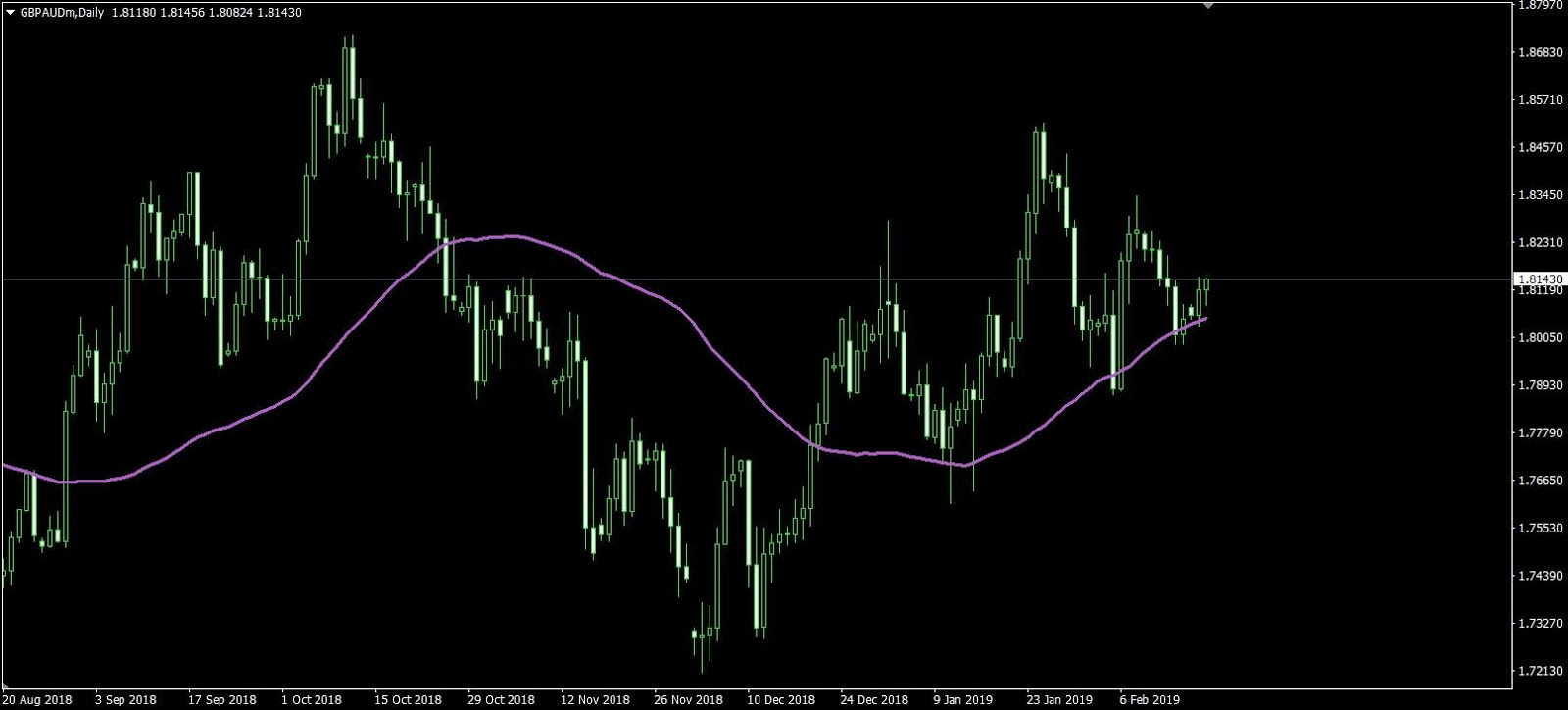 Source: MetaTrader 4 easyMarkets
Follow Economic Data Releases from Australia and the UK
Not keeping an eye on economic announcements will be a big omission when trading forex. You won't want to see your profitable trades suddenly turn into losses, just because an economic report was published with an unexpected outcome.
Therefore, use an economic calendar to stay up to date with economic data from Australia and the UK. Also, check financial news websites regularly to get news updates that may influence GBP/AUD's movements.
Some important economic data and announcements that may impact this pair's exchange rate include:
Interest rate decisions and press conferences from the Reserve Bank of Australia and the Bank of England
Retail Sales
Consumer Price Index
Monthly employment change
Unemployment rate
Manufacturing Production (UK)
Conclusion
So, you've now learnt more about the GBP/AUD currency pair's characteristics, and 2 tips to trade it more effectively.
When you prepare for a long-term trade, don't forget to calculate the risk-reward ratio, the stop-loss and take-profit levels. Remember that GBP/AUD has the Australian Dollar as the quote currency, so the value of a pip is not 1 USD – at the time of writing, it's worth 0.71 USD. Thus, if you regularly set a stop-loss of 100 pips on the USD-denominated assets, remember to add 40 pips extra for your stop-loss when trading the GBP/AUD.
Lastly, choose a broker that offers good trading conditions such as fixed spreads and guaranteed stop loss. Trading GBP/AUD with easyMarkets gives you this and more, as well as other currency pairs to choose from.