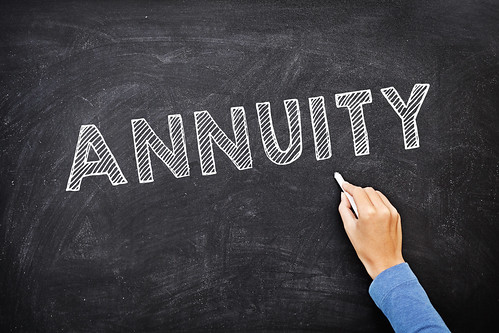 An annuity is a set of payments that you typically pay at a consistent rate in order to receive a guaranteed income in the future to supplement your retirement benefits. Some examples of annuity payments include:
Mortgage payments
Savings account deposits
Insurance payments
Retirement payments
There are five different ways to classify annuity:
Fixed annuity: This type of annuity is when you receive a set amount of interest on your investments for a specific amount of time.
Variable annuity: Variable annuity allows you to invest in mutual funds, and the value of your return is based on the performance of your investments.
Fixed-indexed annuity: This type of annuity allows you to make consistent, tax-deferred payments over time. They normally provide a guaranteed rate of interest as well as the potential for additional interest based on a market-based index.
Immediate annuity: Immediate annuity is when you pay a lump sum to an insurance company or loan distributor in exchange for a set of payments that don't change based on interest.
Deferred annuity: Deferred annuity is a payment option where you receive payments at a specific date in the future, which allows the money you invest to grow over time.
I've Inherited an Annuity — Now What?
When a loved one passes away before receiving the full amount of payments from an annuity, the remaining sum goes to the person or people who they named as beneficiaries. If you inherited an annuity, you might be wondering what to do with it. Here are a few ways you can make the most of your inherited annuity:
1. Lump-Sum Payment
One way to manage your inherited annuity is to receive a lump-sum payment from the insurance company. This means that you'll receive the remaining balance all at once, and you must pay taxes on that full amount.
2. Fixed Five-Year Payments
In this payment option, you can receive payments over a five-year period. In the fifth year, the remaining balance will be given to you in one payment. This is a good option if you want to limit the number of funds you receive at a given time.
3. Annuitized Payments
With annuitized payments, you can customize a payment option that works for you by turning the annuity investment into a series of regular payments. You can set the schedule and conditions for receiving these payments based on your needs, though once you decide on a schedule, you can't change it.
4. Spousal Payments
If your spouse or partner passed away, leaving you as the beneficiary to their annuity, you can work with the insurance company to continue receiving their payments in the same amount and at the same intervals.
An annuity can help you establish financial security for your future. Contact us to learn more about your options for an inherited annuity and how it can benefit you and your loved ones.