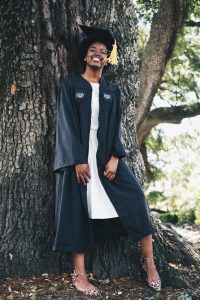 As a full-time freelance writer, I'm always looking for ways to advance my career and grow my business. Since I don't have an educational background in English or writing, I've been thinking about getting a creative writing degree for a while. 
Recently I decided it was time to take the plunge and start budgeting to go back to school. But with bills to pay and a demanding job, setting aside the time and money needed to be a student is easier said than done. Here are some steps I'm taking to make sure I don't have to go into debt or give up clients to get this diploma. 
Choose an Affordable College
America is one of the most expensive places to go to college. On average, students pay $20,770 per year to attend an in-state public college. Private colleges cost more than double at $46,950 per year. 
Instead of taking on debt to go to a US school, I'm planning to enroll in an online college located in the UK called the Open College of the Arts. My whole degree will only cost me around $15,000, so I'll be able to pay for it as I go instead of borrowing money to fund my studies. 
The college I'm going to attend only has degrees in the arts such as creative writing and graphic design. If you're looking to study science or liberal arts, check out the Open University. It has affordable tuition and a much wider range of degree programs from biology to accounting. 
Study Part-Time
I love what I do for a living, so I don't want to stop freelancing and become a full-time student. Plus, I have a mortgage and bills to pay, which requires me to have some money coming in. 
That's why I've decided to study on a part-time basis. The college I've chosen was designed for adult learners who have other responsibilities besides school. They only require students to put a minimum of 12 hours per week into their coursework, which leaves plenty of time for my freelance writing business. Everything is asynchronous as well, so I can study on my schedule. 
Because the college I chose is so flexible, I won't have to give up any of my clients while I'm in school, so my income will stay the same. This will make it much easier to budget for the tuition I'll need to pay at the beginning of each semester. 
Cut Back on Discretionary Spending
Since my tuition only costs about $4,000 per year, it won't be hard to budget for. Right now I'm picking up extra work and putting the money away in a savings account dedicated to educational expenses. I'm also cutting back on my discretionary spending by eating out and shopping less and earmarking that money for my tuition instead. 
I probably won't be able to work overtime when I'm in school, so I'll need to keep my spending down while I'm a student. But luckily my tuition only costs about $330 per month, so I won't have to eat ramen to be able to afford it. I'll just have to cook at home more often and live without unnecessary purchases like that air hockey table I've had my eye on for my game room. 
Wrapping Up
The key to being able to budget for your educational costs without taking on debt is choosing an affordable school. American colleges are charging $10,000 per semester or more, which most of us can't swing without student loans. 
I highly recommend that you thoroughly research your educational options before you decide where to enroll. If I hadn't done an internet deep dive, I never would've found out about the Open College. There are so many different ways to learn skills that can help you level up your career—trade school, community college, and online certificates just to name a few.
If you can avoid going to a traditional four-year university, your finances will thank you for it. But if you can't, make sure you choose a marketable degree with a high return on investment so you can pay off those student loans quickly. 
Read More
Headed to College Online? Here's What You'll Need
Is a College Degree Worth the Money?
Budgeting Tips for New College Students