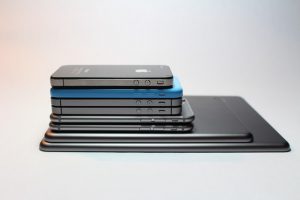 It seems like a new must-have device comes on the market every day. If you're always buying the latest and greatest gadgets, you probably have a bunch of unwanted devices laying around. Instead of letting them collect dust in your closet, here are some ways to make money from old devices you no longer use.
4 Ways To Make Money From Old Devices
Trade Them In For Gift Cards
Lots of retailers have trade in programs for old computers and phones, allowing you to earn gift cards or store credit.
For example, Amazon will give you gift cards in exchange for electronic gadgets like cellphones, gaming devices, smart speakers, tablets, and more. All you have to do is select the device you're trading in and give them some details about its condition. Then they'll give you an offer and a free shipping label so you can send in the item.
If the device is in good working order, your gift card will get deposited directly into your account. Amazon may even pay you more if the device is in better shape than you thought.
Here are some other stores that offer store credit for unwanted devices:
Apple accepts iPhones, iPads, MacBooks, certain Android phones, and Apple Watches
Target will take smartphones, wearables, speakers, gaming consoles, tablets, and more
Best Buy offers gift cards for unwanted MP3 players, video games, cameras, TVs, cellphones, and more
Walmart will take laptops, voice speakers, game consoles, tablets, cellphones, and more
Trade Them In For Cash
If you need money to pay your bills, a store credit may not work for you. Luckily there are other trade in programs that pay out cash instead of gift cards, including:
Gazelle accepts cellphones and tablets and pays you through PayPal
Decluttr takes video games, consoles, MacBooks, tablets, and more and pays by direct deposit or PayPal
ItsWorthMore accepts phones, tablets, laptops, and more and pays via Zelle, PayPal, or check
Sell Them
Trade in programs are convenient, but they don't always give you the best payout for your devices. They also place limits on the types of devices they'll accept, so some of your devices may get turned down, especially if they're damaged.
If you don't mind doing a little extra work, selling the items yourself may be a better way to make money from old devices. Here are some places you can list those unwanted phones and tablets:
Facebook Marketplace
eBay
Craigslist
OfferUp
LetGo
Nextdoor
It's a good idea to clean up your devices before you photograph and list them. The better they look, the more money buyers may be willing to pay for them. You should also return your device to the factory settings so the buyer can't access any of your data.
Use Apps To Earn Extra Cash
Don't want to sell your old devices just yet? Downloading some money-making apps is a good way to put them to use while you decide what to do with them. Here are some apps you should consider trying out.
Swagbucks
Swagbucks is a popular rewards site that allows you to earn points (known as SB) for watching videos on your phone. Once you accumulate enough SB, you can redeem them for gift cards.
Swagbucks has several mobile apps that offer different types of video content. MovieClips is perfect for film lovers because it has all the latest movie trailers. If you like sports, you may prefer Sportly, which features videos about fitness and sports.
You can usually earn 1 SB for every 5 or 6 videos you watch. Although that isn't much, if you play the videos on your old device all day, the points will really add up.
S'more
Downloading S'more is another great way to make money from old devices. It's a rewards app that allows you to earn points by watching videos and playing games. You can even rack up rewards just by unlocking your phone. S'more will give you 10 points per day if you allow it to place ads and content on your device's lockscreen.
If you get creative, there are lots of ways to earn some extra cash from your unwanted gadgets. What are your favorite ways to make money from old devices? Let us know in the comments below.
Read More
How to Make Money by Sharpening Knives
Want to Make Money as A Freelancer? Here's All You Need to Know
4 Fun Hobbies You Can Easily Make Money From
Need To Make $200 Fast? Check Out This Article 
7 Mobile Gaming Statistics: Eye-Opening Stats for 2023

Vicky Monroe is a freelance personal finance and lifestyle writer. When she's not busy writing about her favorite money saving hacks or tinkering with her budget spreadsheets, she likes to travel, garden, and cook healthy vegetarian meals.