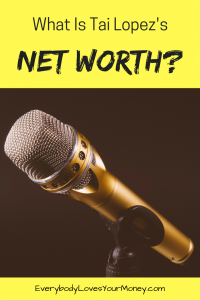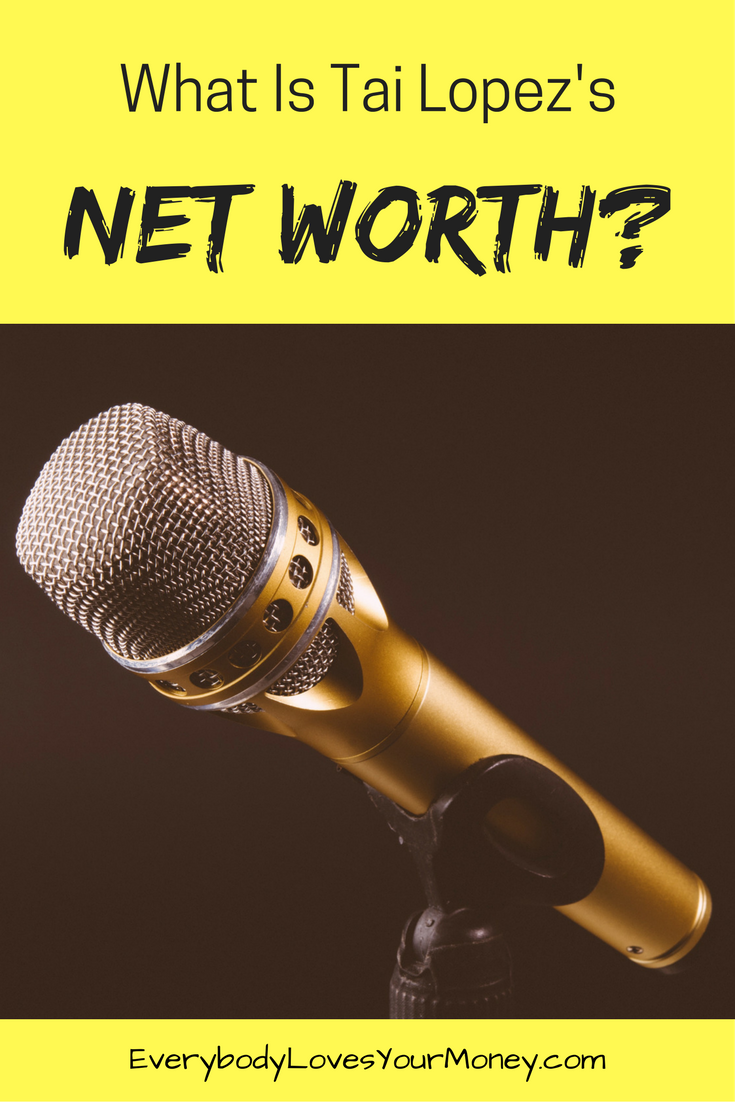 Tai Lopez is an entrepreneur, investor, adviser, and a prime example of a self-made online millionaire. Through his online book review newsletter with 1.5 million subscribers and his well-known 67 Steps program, Tai Lopez's net worth is rumored somewhere between $3.5 and $7 million. Since his business investments and services are so varied, it's difficult to determine an exact amount.
What we do know is that Lopez understood the online market and found a way to build significant wealth as a result. Now he's earning millions each year to advise major corporations and share his expertise with online followers.
What Is Tai Lopez's Net Worth?
Name: Tai Lopez
Occupation: Entrepreneur, Investor, and Adviser
Net Worth: $3.5 to $7 million, rumored
From sleeping on his couch in a trailer deeply in debt, to becoming a multi-millionaire, Lopez's journey is a compelling one. In his famous YouTube ad, "67 Steps to Finding a Good Life," Lopez talks about the history of making a living and how the world attributes success to things like graduating college and coming from the right family.




Success, as defined by Lopez, comes from changing your own set of habits and learning from the wisdom of others.
For example, Lopez claims to read one book a day and reviews each one in his huge book review newsletter. He credits much of his success and ideas to the mentors who've left an impression on him through the years.
However, some believe his ideas are just a scam to stuff people into a dysfunctional sales funnel that wastes their time, teaches them nothing, and makes him wealthy. But how exactly does Lopez make his millions?
How Does Tai Lopez Make Money?
His program, 67 Steps, is a primary source of Lopez's wealth, largely because it is recurring. His paid course promises to teach the steps to achieve the "four pillars:" Health, wealth, love, and happiness for $67 each month.
Another source is his online book review newsletters in which followers subscribe for free and receive a full review of a new book every day. Lopez's revenue comes from an Amazon affiliate link he includes in every email. Amazon's affiliate program typically pays a 4% to 8% commission if people make a purchase through your specific link. Additionally, if users continue shopping for other merchandise at that time, you receive a commission from the grand total purchased.
Now that Lopez established himself as an expert in the art of success, businesses pay handsomely for his advice. Like Gary Vaynerchuk, continually sharing free content to his followers, priming them for his well-dispersed paid products that promise to deliver even more valuable content.
Is Tai Lopez a scam artist?
There is some controversy over Tai Lopez's net worth being comprised of revenue from his 67 steps and whether or not his advice is beneficial. One user on Reddit indicated much of the content in Lopez's paid course could be found for free on his podcast. Others are simply turned off by his long-winded sales techniques, which may be more of a personality preference.
Still, others claim they've gained value from his course. Much of his resources are available to the general public for free, so can someone make the claim that he's scamming his followers when they willingly pay for his products?
That's the question. Despite all the controversy, Lopez does enjoy passing on the wisdom of others onto any individual willing to listen. He's figured out a way to monetize that and still create value to others. Many online entrepreneurs today follow that same formula. It's no wonder Tai Lopez's net worth is so high.
For more celebrity net worth articles, like YouTube millionaire, Cassey Ho, click here.
Below is Tai Lopez's introduction of the 67 Steps to Finding the Good Life.
Like reading about celebrities net worth? Check out these other articles
Steven Seagal Net Worth
Jake Busey Net Worth
What Is Cassey Ho's Net Worth?
What Is Optic Nadeshot's Net Worth?
What Is Tony Beets' Net Worth?
What Is Jaclyn Hill's Net Worth?
Have you taken an online course you found very beneficial? Tell us about it in the comments below!