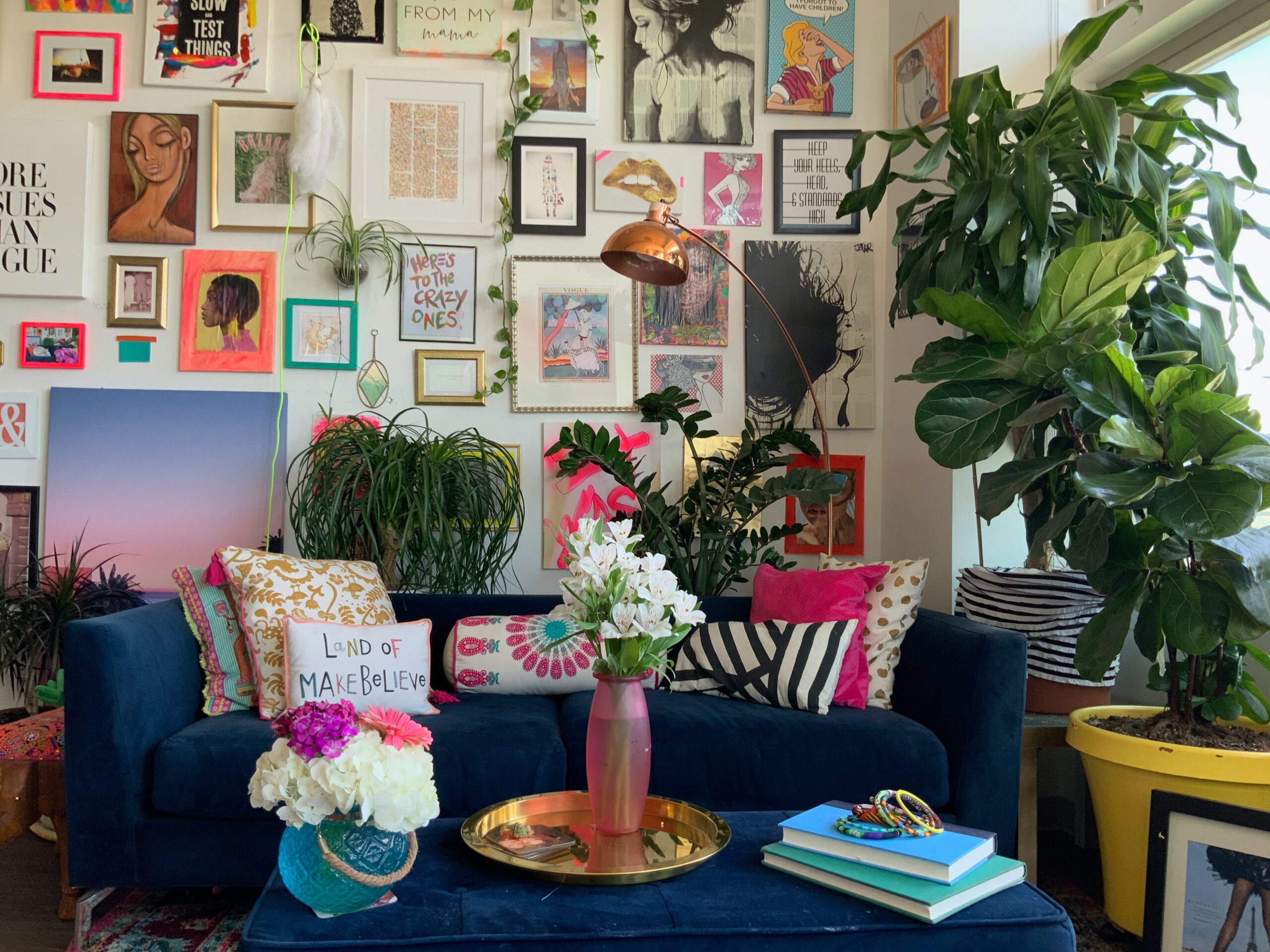 It's a common misconception that you have to be a minimalist in order to be frugal. However, you don't have to break the bank to try out the maximalist decor trend that's popular on Instagram and TikTok.
There are plenty of places to get affordable decor, from thrift stores to estate and garage sales. You can also flex your DIY skills and transform old furniture you find on the curb into funky pieces that reflect your unique personality and style.
Here are four of the tips I follow to practice maximalism on a budget. Using these tips, I'm able to decorate for most major holidays and fill up my home with knick-knacks I love without breaking the bank.
How to Be a Maximalist on a Budget
Ask Family Members for Unwanted Decor and Furniture
A lot of the Christmas and seasonal decor I have was passed down from my parents. As they've gotten older, they've downsized into smaller homes and gotten rid of a lot of their belongings.
Whenever they did a big cleanout, I asked them if I could take a look at the things they were getting rid of to see if I wanted them. They were more than happy to give me special decor items I remembered from my childhood, which would've likely ended up at Goodwill or in the landfill otherwise.
Although asking for hand-me-downs can feel awkward, friends and family are usually happy to share unwanted belongings in my experience. You may even be doing them a favor by taking furniture and decor off their hands so they don't have to transport bulky items to the thrift store or dumpster.
Look for "Trash" on the Curb
You'd be amazed at the types of items that get put out on the curb, especially in wealthy areas. When I lived in the Boston suburbs, I found two beautiful armchairs and an armoire on the curb on the same day.
You could probably furnish a whole house in just a few weeks by driving around affluent neighborhoods and picking up free finds! You can also find some gems by searching for free items on Facebook Marketplace, Craigslist, Nextdoor, and OfferUp.
Some items might need a little TLC, but it's worth putting in sweat equity to save money. Wood furniture that's seen better days can be given new life by painting or refinishing it and adding new hardware. I try to be more careful about picking up fabric items on the curb because of the risk of bedbugs. If an upholstered item looks dirty, I usually pass on it. I also use the steam cleaner attachment on my carpet cleaner to thoroughly sanitize my secondhand finds.
But if you're brave enough to pick up fabric items with some wear and tear, you can always reupholster them. There are many videos on YouTube that can teach you how to recover furniture at home.
Visit Estate Sales
Estate sales usually occur when a homeowner passes away or needs to get rid of most of their belongings due to downsizing. Because these are "everything must go" sales, you can often find great deals on unique tchotchkes, clothing, and household items. You can search for estate sales in your area on EstateSales.net or look in your local newspaper.
I usually like to go on the last day of the sale to score the deepest discounts. However, waiting until the sale winds down often means there's less variety and inventory to choose from. So you may prefer to get there early to have the best chance of finding standout pieces to complete your maximalist design. If you go on the first day, you may still be able to save money by bundling a few items together and asking for a bulk discount.
Use Color and Pattern to Add Visual Interest to Your Space
Creating a maximalist home and building up your collection of beautiful knick-knacks can take years. Although you'd love to have every surface covered with beautiful objects ASAP, don't rush the curation phase. You don't want to go into debt or pick out decor you're not in love with just to fill up your space. Be intentional about the objects you add to your collection to ensure you're thrilled with the final result!
While you're searching for the perfect pieces to round out your space, you can add more visual interest to your home by making use of color and pattern. Mixing bold paint colors with funky wallpapers and wall decals will make your home feel more eclectic and personalized even if you can't afford to buy a lot of furniture or decor yet.
How do you make your home feel maximalist on a budget? Share your tips in the comments below!
Read More 
How Much Should You Spend on Decorating Your Home?
Inexpensive Ways to Decorate Your Home
How Being a Homebody Saves Me Money

Vicky Monroe is a freelance personal finance and lifestyle writer. When she's not busy writing about her favorite money saving hacks or tinkering with her budget spreadsheets, she likes to travel, garden, and cook healthy vegetarian meals.