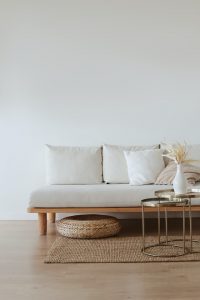 Because of the pandemic, we've all been spending more time at home, which has shifted our financial priorities. Instead of investing money in travel and experiences, Americans are spending more on home improvement projects than ever before. In 2020 alone, consumers spent a combined $420 billion on renovations to turn their houses into their dream homes. 
Before quarantine I didn't understand the importance of home decor. I thought that buying pillows and wall art was unnecessary. But during lockdown I've realized that staring at blank walls all day makes staying inside even harder. So I've decided to hop on the home improvement bandwagon and start sprucing up my space by finally decorating it. 
Nailing Down a Budget
Since this is my first time decorating a home, I don't have a clear budget in mind for the project. So I've turned to the Internet to learn what it usually costs to furnish a 2,000 square foot house. At first I couldn't seem to get a clear answer. Some people say it costs $15,000 just to furnish one room while others claim you can decorate an entire home for $2,000. 
Because the figures vary so much, it's been hard for me to determine how much money to put aside for furnishings and decor. I want to set a realistic budget that will enable me to create a home I love without breaking the bank. Here's what I've decided to spend on decorating my first house. Hopefully my approach will help you figure out your ideal budget too. 
How Much I'm Planning to Spend On Decorating My Home
After a lot of fruitless research, I finally stumbled across a helpful article by School of Decorating. It shared a financial rule of thumb for home decor spending that was originally created by Apartment Therapy CEO Maxwell Ryan. He says that homeowners should expect to spend what they'd pay for a new vehicle on home furnishings and decor. 
He says this rule works so well because the type of car you drive reflects your taste, style, and financial comfort level. I only drive used cars and won't pay more than $10,000 to $15,000 for a vehicle. Although there are cheaper cars out there, I feel that this price point gets me a better quality vehicle that requires less maintenance.
I think a budget of around $10,000 will also help me get high-quality, long-lasting pieces for my home without compromising my financial goals. Although I won't be able to buy all my furniture from Restoration Hardware or Pottery Barn, I can still get durable pieces that will last for years to come within that budget. 
I don't plan to blow $10,000 all at once. I'm going to gradually furnish each room and be intentional about the things I purchase. I want to find pieces I truly love so I don't have to replace them down the line. 
You may think that this budget sounds unnecessarily high, and I'll admit I had sticker shock at first. But I found out that the average person spends about $8,000 to furnish an apartment, so it makes sense to set a higher budget for my three bedroom home. 
Even though I plan to buy things on sale and visit flea markets and thrift stores, I'll still have to pay a couple hundred dollars for each big piece of furniture I need, such as a couch and mattresses. All those big tickets items add up, as do small decor purchases like vases and artwork that finish off a home, so $10,000 doesn't seem off-base. 
Wrapping Up
What do you think about this budget? Is it too high or too low based on your experience? 
Let me know if you have any money-saving decorating tips in the comments section below so we can all learn from each other! 
Read More
Why Are People Obsessed With Money?
How To Give Money to Family After Winning the Lottery
Why Pantry Challenges Are Costing You Money