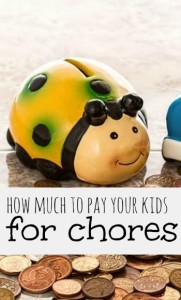 As a mother and an entrepreneur, I have a hard time finding that perfect balance between having chores my kids must do and paying them for chores.
While I want them to be proud that they earned their own money for working hard I also don't want them to expect that I pay them for every little thing that they do.
Instead, I've got to strike a balance.
If you're wondering how much to pay your kids for chores here's what I do.
The No Pay Chores
Like I mentioned I don't think kids need to be paid for every little chore that they do. Here's what my kids do (who are ages 5 and 6) for no money:
Keep Their Rooms Reasonably Clean
Pick Up Their Toys
Help Fold Laundry (not mandatory, they like to do this)
These are all simple tasks but I think they're crucial for kids of all ages. You don't have to pay your kids to pick up their own mess.
Chores They Get Paid For
I do not pay my kids for chores every week. They are still relatively young and are expected to do the basics such as keeping their rooms reasonably clean and picking up after themselves.
When they are in the money-earning mood I will give them extra tasks to do (which my oldest loves and youngest hates)
Here are some of the common paid chores they do:
Deep cleaning their room: dusting, organizing, making the bed, and sweeping their floor. $5
Helping clean a room: This can include dusting, organizing, and sweeping. $2
Since my kids are still so young paying for chores done can be a tricky thing.
Here are some posts from others with kids of varying age levels to give you a better idea:
Luke 1428 – Kids ages 6,7,11, and 13
Money Crashers – Suggest you pay $1 for one year of age. (A five-year-old would receive $5/week)
com – Several People Weigh In on Chore Payments
How much do you pay your kids for chores?
Read More