Just when I thought I had heard everything, along comes this company that will sell you 52 fake ATM receipts that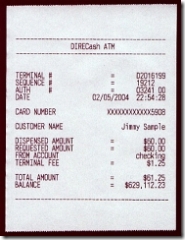 they'll put any dollar figures you want on. I'm sure that this is just a good prank for many people, but you know there are some people out there that will actually buy these in an attempt to be something they are not. It's keeping up with the Jones' on a whole new level. I suppose once these folks buy the receipts, they'll then need to figure out a clever way of dropping them at just the right time so that someone they know will find them and think, "Oh my gosh. He's loaded!!" Poor fools.
If you'd like to actually see a "REAL" copy of my ATM receipt, check it out here:
http://www.customreceipts.com/fake-atm-receipts/one-year-supply/?crcard=4136&crname=Hazzard&crdispensed=100.00&crbalance=749%2C000.85&crstage=2
Of course this is real and this is just my checking account. I keep most of my money in my savings account so don't think for a minute that I'm not a millionaire.