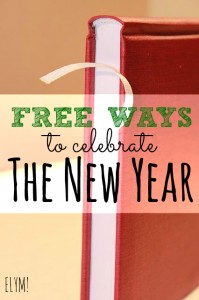 I've been getting pretty wrapped up lately in wanting to really, really cut back on my expenses and live a less consumer-driven life. I'm just tired of all the waste – of filling up an entire trash bag full of junk in one day and having my kids' toy boxes just overflow.
So in 2015 you'll be hearing a lot about how I'm doing all this. With the New Year coming up I wanted to focus on that.
Here are 6 free ways to celebrate the New Year.
Have a Movie Marathon
Pull out a stack of your favorite movies (or go to the library and check some out for free) and have a movie marathon. You can make this an adult only night or you can pull out all of the Disney movies for the kids.
Since my kids got a few new movies for Christmas I'll be having a kid-friendly movie marathon.
Play Board Games
Turn on the TV so you can watch the New Year's Ball drop and play some board games. Monoply is still extremely popular among the adults in my family.
For the kids Candyland, Guess Who, and Jenga are the clear winners.
Host a Goal Writing Session
Get together with a few of your best friends and have a goal writing session.
You can each take some time coming up with your big picture plan for the New Year and bouncing ideas off of one another. You can then host monthly accountability sessions to make sure everyone is staying on target with their goals.
Have a Baking Night
Ring in the New Year with a baking night. Have your family all work together baking their favorite treats.
You can use some for snacks and freeze the others to use in the next couple of months. This is a fun way to get ahead on your cooking!
Play Cards
As an adult my favorite "fun" activity is playing cards with family. We play every form of poker you can imagine (betting quarters.) We also play a lot of euchre.
I ended up winning $50 last time we played!
Have a Potluck
Invite all of your friends and family to celebrate with you. Have each person bring something for dinner. After dinner you can do a combination of everything above – play games, watch movies, and plan for 2015.
Keep it Cheap
You don't have to go to the bar and spend hundreds of dollars on drinks to have an amazing New Year. Ring in the New Year with some good old fashioned family fun. You're head and wallet will thank you the next day.