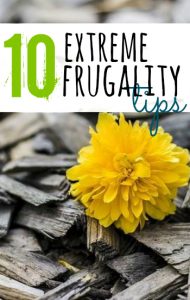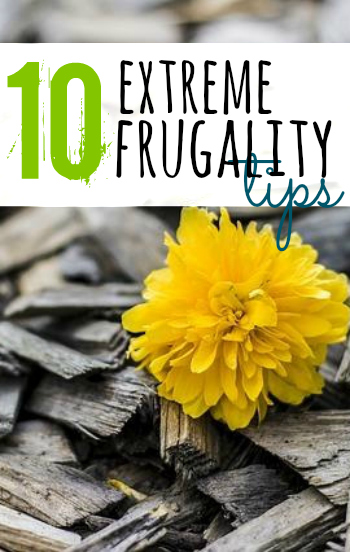 I've been obsessed with reading extreme frugality blogs lately. I've also noticed a trend: extreme frugality IS NOT about saving money, it's about lifestyle.
The people who practice these extreme frugality tips might just be some of the wealthiest people you ever meet. That's because they build lives that are centered on other people, nature, and hobbies that make them happy, not money.
They have a strong set of personal values and closely adhere to those.
So, if you're looking for extreme frugality tips just to save money these tips can help, but might not be sustainable.
# 1 – Never Pay for Entertainment
Instead of paying to keep yourself entertained take advantage of all the free resources around you. Go on walks, take hikes, find a free (or money making) hobby, have your friends over to play games, or build a fort in your living room.
Never say that you're bored!!
# 2- Don't Drive Your Car, Like Ever
You see this often on extreme frugality blogs. Apparently driving a car means you're lazy – you should be riding a bike instead.
# 3 – Pay for Vacation with Credit Card Rewards Points
Another thing I don't do – use credit cards for their rewards. I definitely don't think this something that the majority of the population should try.
Credit card churning is an art. If you screw it up you'll be in deep financial trouble. However, if you think you can handle it you can learn more from a credit card churning pro, Holly Johnson.
# 4 – Learn How to Eat for Forty Cents a Day
A few years back Brandy, from the Prudent Homemaker, had to learn to feed her family for cheap out of necessity. She's is truly an inspiration when it comes to frugal living.
She teaches people how to eat for forty cents a day! Pretty amazing.
# 5 – Only Buy Secondhand
If you're searching for extreme frugality tips I really hope that this is something you already do. If not, get on it.
Buying secondhand is not only cheaper (obviously) than buying brand new but it's also a great way to get quality items. Try Craigslist, Facebook Yard Sales, Thrift Stores, Consignment Shops, and Garage sales.
# 6 – Shop for Free (Curbside and Craigslist)
In addition to buying secondhand don't be afraid to grab a piece of furniture off the side of the road. You can scour Craigslist for free items, too!
If you wanna see how awesome having a frugal crib is, go check out this video. You won't be disappointed. J
# 7 – Learn How to "Do it Yourself"
You need to be able to perform basic home repairs yourself. The internet is a vast source of information and you can find ways to do absolutely anything if you're willing to invest a little time.
On the contrary, it's also smart to know what to hire out. Don't do things beyond your capabilities that might cost you more in the long run.
# 8 – Do NOT Pay for Beauty Treatments
Facials, expensive makeup, and salon visits do not mesh well with extreme frugality. That doesn't mean you have to completely neglect your physical experience though. It just means you need to stop paying hundreds of dollars for treatments that you can easily do yourself at home.
# 9 – Grow/Hunt Your Own Food
Growing a vegetable garden is a great way to build your food supply for pennies on the dollar. Likewise, if you already have all the necessary tools hunting is a cheap way to obtain meat
.
# 10 – Don't Buy Things that Don't Need
This last tip pretty much sums up frugality as a whole! Never pay for things that you don't need!
#11 – Using Coupons & Discounts
If you are considering making any type of purchase, chances are you can use a coupon or a discount code to make your purchase cheaper. Many top brands often run deals enabling you to get anywhere from 10% off up to 75%. Check out coupon sites like mamma.com or Retailmenot. These sites will have a list of available deals that you can use straight away! Pretty neat right?
Evaluate your purchases, don't spend on impulse, and don't buy things that you won't use.
What other extreme frugality tips do you have?