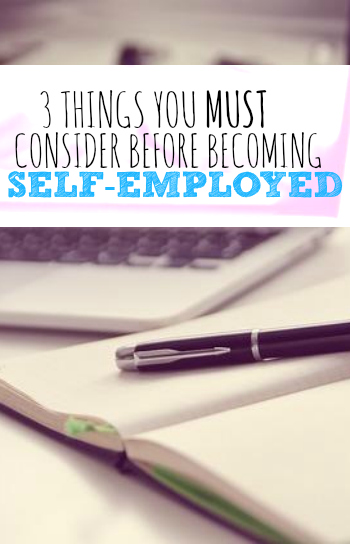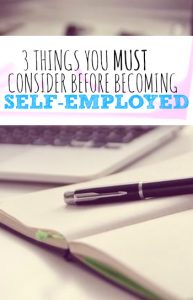 Working for yourself has a lot of pros, but it's not all rainbows and sunshine like many people make it out to be. The fact is when you're self-employed you've got to put some serious (unpaid) hours in the beginning just to make a name for yourself.
After that you've got to learn how to manage clients, set your rates, and find ample time to actually work on your business. That's without even covering the financial aspect.
So, if you're thinking about making the plunge into self-employment here are some things you should first consider.
Taxes, Taxes, and More Taxes
Taxes. This is most definitely my least favorite part of being self-employed. In addition to paying the normal federal and state income taxes you'll also be responsible for paying your own portion of social security and Medicare taxes. But since you're not working for an employer you have to pay their portion too.
That means 15.3% of your income needs to be taken out for SE taxes (social security and Medicare.) Then you need to factor in federal and state taxes.
So when you're calculating how much money you need to make a living add another 30% percent to that so that you can pay your dues. Taxes will eat up a huge amount of the money you're bringing in.
That's just one of the prices you pay for being self-employed.
Retirement
I, for one, have never had a day job that offered a retirement plan so it's always been up to me. But if you're used to having an employer sponsored retirement plan you need to kiss that goodbye.
On the flipside there are some amazing retirement plans you can contribute to if you're self-employed. Specifically, the Solo 401k and the SEP IRA.
Health Insurance
Another perk of being an employee is having employer sponsored health insurance. (Which I never had so once again, it doesn't make a difference for me.)
Since health insurance can be a huge expense this might be a serious blow.
What Do Those Benefits Add Up To?
If you are coming from a job that offers benefits you absolutely must factor those into your day job income. Once you do that you can figure out how much money you need to make on your own, just be sure to add that tax amount in there as well.
As you can see you really need to earn much more money working for yourself than you did at your day job just to break even.
While I truly believe self-employment is amazing and the income cap is unlimited, it does take time to grow. Take these things into consideration before you make the leap!