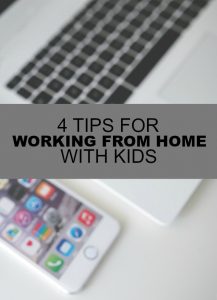 Thanks to the internet, working from home has become a fantastic way for almost anyone to make extra money.
However, for stay at home moms or parents looking to make extra money on the side it can sometimes feel hard to keep up with all. (Trust me I know how you feel!) I've been working at home on the side or full time for more than four years.
Here are the four main tips that have helped me when working from home with kids.
# 1 – Create a Routine
If you're just getting started the number one thing you can do is create a routine.
Decide when you're going to work and stick to it. This might mean getting up a couple hours before your kids do or staying up after your kids go to bed. If you have kids who go to school and you don't work outside the home, school time is a great time to fit all of your work in.
Pick a time that works for you and consistently stick with it.
# 2 – Hire a Babysitter When Needed
Once you start getting projects and earning money there's bound to come a time when you feel overwhelmed with all you have to do. This is when you're going to have to make the decision to either scale back your work, get a babysitter, or just continue to feel stressed out.
If you want to grow your income you have to get some help when needed! There's nothing wrong with hiring a babysitter for a few hours each week so that you can get your work done.
# 3 – Work Ahead When Possible
When you have some down time or a particularly slow week try and work ahead as much as possible. As a mother I understand that this can be hard to do but it's worth it.
# 4 – Work in Batches
Another thing I do to increase my productivity and get more done in less time is to work in batches. One day I may spend a bunch of time writing, others I'll create graphics, and others I'll schedule out messages on social media.
Take a look at your work from home business and figure out how you can make working in batches work to your advantage.
Do you have any tips for working from home with kids?